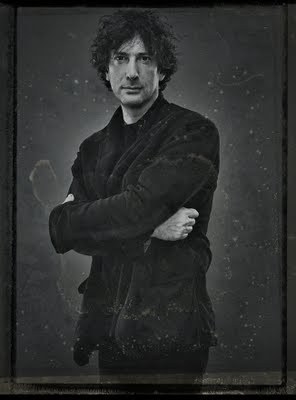 Neil Gaiman appears on Friday, June 24, 2011 at 8:00 p.m.
HURRY! Tickets can be purchased through The Fitzgerald Theater's box office at 651-290-1200.
Neil Gaiman is one of the most engaging, smart writers we know. (@neilhimself) Turns out he's pretty funny, too. He's behind the Sandman graphic novels – the only comics to ever make the New York Times bestseller list. He's won a ton of awards for his writing – The Newberry Medal, the Carnegie Medal in Literature the Bram Stoker award. His written books and screenplays – "American Gods", "The Graveyard Book", "Coraline", "Beowulf". He returns to Wits™ this spring and charms us all with his English accent and his way with words.
Paste magazine has called him one of the "100 Greatest Living Songwriters." Stephen King has said of one of Josh's songs: "This is the most exuberant outburst of imagery since Bob Dylan's "A Hard Rain's A-Gonna Fall," in 1963." Most everybody agrees Josh Ritter is a rare talent. (@joshritter) He will woo you from the stage of the Fitzgerald at this final Wits show of the season, where you can also be one of the first to get his new novel, "Bright's Passage" (out in bookstores June 28, 2011). It's a book that inspired Pulitzer Prize-winning author Debby Applegate say "In his debut novel Josh Ritter displays the same love of language and historical detail, the same irresistible combination of wit and earnestness, that make him such a brilliant songwriter. He's created a genuine work of literature." You would be crazy to not see this show.
Bonus: Kevin Murphy and Bill Corbett – the Box Dwellers! For ten years Kevin Murphy (@kwmurphy) co-wrote and directed the Peabody Award-winning series Mystery Science Theater 3000, and starred as the plucky red robot Tom Servo. Bill Corbett (@billcorbett) also wrote and performed on the show as well, providing the voice of the robot Crow (v.2.0) and playing various other strange characters — including the all-powerful but clueless alien The Observer (a.k.a. "Brain Guy"). They both are part of the RiffTrax team that makes MP3 tracks you can play in-sync with your favorite movies. We've asked them to come and riff on Wits™. They'll be in a box seat at the Fitz, talking about the show and what people are saying on Twitter. Like our own, modern-day Statler and Waldorf.
Fitzgerald Theatre
10 E. Exchange St, St. Paul, MN