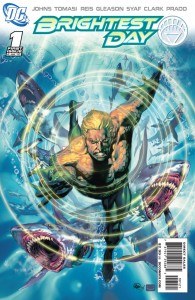 Ivan Reis and Joe Prado sign at Midtown Comics Grand Central on Tuesday May 17th from 4:00 to 5:00 PM.
Ivan Reis is an artist exclusive to DC and has penciled such titles as Action Comics, Green Lantern, Justice League of America, Rann-Thanagar War, The Authority, Wildcats, Teen Titans, 52, Superman, Countdown, Infinite Crisis, Green Lantern: Blackest Night and Brightest Day.
Joe Prado got his first American comics work sharing penciling duties with Ivan Reis on Action Comics for DC Comics. Since then, he's worked on such titles as Superman, Teen Titans, Birds of Prey, Rann/Thanagar War and Brightest Day.
Both Ivan Reis and Joe Prado are set to draw the upcoming Aquaman series written by Green Lantern scribe Geoff Johns.
RSVP to this event on Midtown Comics' Facebook page!
Midtown Comics – Grand Central
459 Lexington Avenue, New York, NY