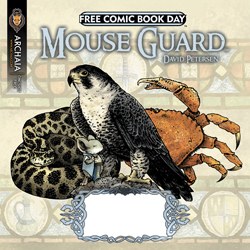 David Petersen, Len Wein, Jim McCann, and many more sign at Collector's Paradise on May 7, 2011 for Free Comic Book Day!
Press Release:
Collector's Paradise Comics & Gallery, San Fernando Valley's Premiere pop culture store, is excited to announce that it has purchased the famous Pasadena hobby landmark, Comic Odyssey, and has turned it into the second location of the company's store brand, Collector's Paradise.
 
Everyone knows that with the current economy, consumers are spending less than before on their hobbies.  Collector's Paradise believes that as the economy changes for the better, the comic book industry will recover and with the proliferation of comic-based movies, a whole new audience will continue to grow for our products. "Opening a new location has always been a dream of mine, and bringing more business to such a fine area as Pasadena is an exciting opportunity we just could not pass up", said Edward Greenberg, one of the co-owners of Collector's Paradise. 
 
The timing of the opening of the new store could not have been better, as it gives Collector's Paradise the opportunity to unveil the new location during the most exciting day of the year for the whole industry, Free Comic Book Day.  An annual event that happens every year on the first Saturday in May, Free Comic Book Day has become the most attended day of the year for most stores participating in the celebration. This year, on May 7, Collector's Paradise will present to its customers a very exciting  event, that will showcase the store's commitment to continue being not just a retail store, but a "Destination" where consumers come to meet the industry's finest creators face to face.
 
On May 7th, Collector's Paradise is presenting one of their best line-ups of comic book creators to date, including:
 
Len Wein – creator of such characters as Wolverine, Swamp Thing, Nightcrawler, Storm, and Colossus. As an Editor, Len oversaw such books as Crisis on Infinite Earths and Watchmen. Len is currently writing DC Universe Legacies. Len will be on hand from 11am to 2pm to sign for fans. 
 
JT Krul – a bright rising star at DC Comics. Having started at Aspen Comics, where he took over writing duties from Michael Turner on books like Fathom and Soulfire, this past year, JT has left his mark on Green Arrow and Teen Titans, an upcoming Flashpoint tie-ins, in addition to his first creator-owned title, Mindfield. JT will be on hand from 3pm to 5pm to sign for fans.
 
David Petersen is known all around as the creator /artist / writer of the amazing All Ages book, Mouse Guard, from Archaia. The book has won all types of awards and is considered a shining example of a graphic novel for fans of ALL ages. David will be on hand from 4pm to 6pm to sign for fans.
 
Jim McCann's latest graphic novel, The Return of the Dapper Men, from Archaia, has been a huge critical hit and commercial success, selling out the whole first printing in a matter of days.  His Marvel work, Avengers: The Reunion and Hawkeye & Mockingbird, among others, has also received some high praise.  Jim will be on hand from 4pm to 6pm to sign for fans.
 
Mark Sable's career in comics started with creator-owned Grounded, Fearless, and Hazed. He's done some DC work including a Teen Titans Cyborg mini-series. His original series, Unthinkable, from Boom Studios! was too close to real life for TSA Agents, and right now he's working on a new series, called Graveyard of Empires, for Image Comics. Mark will be on hand from 11 to 2 to sign for fans.
 
Sheldon Mitchell has done a great deal of work for Top Cow Studios, including Freshmen Summer Vacation Special, and his current run on The Darkness. Sheldon will be on hand from 11am to 2pm to sign and sketch for fans.
 
Rick Basaldua has been an artist/inker for many years on many Top Cow books, including the hot Artifacts mini-series, as well as Rising Stars, Pilot Season, and Utopia at Marvel Comics. Rick will be on hand from 11am to 2pm to sign and sketch for fans.
 
Tess Fowler is a rising star. So far her works has been featured in Michelle Obama Year One, Wonderland Annual 2010, Grimm Fairy Tales and Charmed, as well as Heavy Metal Magazine. Tess will be on hand from 3pm to 5pm to sign and sketch for fans.
 
Kids are a big focus of Collector's Paradise' effort on FCBD.  The event will feature costumed characters for the kids to take photographs with, as well as several thousand kid-friendly comic books given away to all fans in attendance.
 
In addition to the free comics, Collector's Paradise Pasadena will hold their biggest sale of the year, especially on comic book back issues, which will be sold at incredible price of just 50 Cents each, or $50 for an approx. 300 count box. The is the biggest reduction of price for back issues in the history of the store and will only happen on that day.    
The event will be held at Collector's Paradise Pasadena from 11am to 7:00pm, with creator signings and character appearances throughout the day. 
 
Collector's Paradise Pasadena is located at 319 S. Arroyo Parkway Unit 4, at the corner of Del Mar, in Old Town Pasadena.  For additional information, please contact Edward Greenberg, owner of Collector's Paradise @ 626-577-6694 (business) or 818-326-2517 (cell), or at store@comicsandcards.net