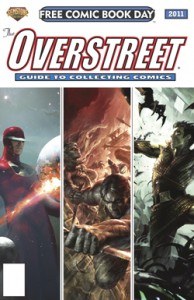 Press Release:
Three comic shops on New York's Long Island,
Best Comics
in New Hyde Park,
The Comic Book Depot
in Wantagh, and
Fourth World Comics
in Smithtown will host Dark Horse Comics writers
Jim Shooter
(
Magnus, Robot Fighter
,
Doctor Solar, Man of the Atom
and
Turok, Son of Stone
) and
J.C. Vaughn
(
Mighty Samson
) for a whirlwind three store signing event on Free Comic Book Day, Saturday, May 7, 2011.
Shooter, the former Editor-in-Chief of Marvel Comics and acclaimed writer of The Avengers and the perpetually best selling Marvel Super Heroes: Secret Wars, actually broke into comics at age 13 with DC Comics writing the Legion of Super Heroes (on which he's had three stints over the years). Since then, he has founded VALIANT, DEFIANT and Broadway Comics, and is now writing multiple titles for Dark Horse.
Our own J.C. Vaughn is best known as the Associate Publisher of Gemstone Publishing, where he works on The Overstreet Comic Book Price Guide, Comic Book Marketplace and Scoop. He also authored our Free Comic Book Day entry, The Overstreet Guide To Collecting Comics. In addition to co-writing Mighty Samson with Shooter, his comic book work includes 24 (based on the Fox TV series), Shi (with Billy Tucci), and his creator-owned Vampire, PA, Zombie-Proof, and Bedtime Stories for Impressionable Children.