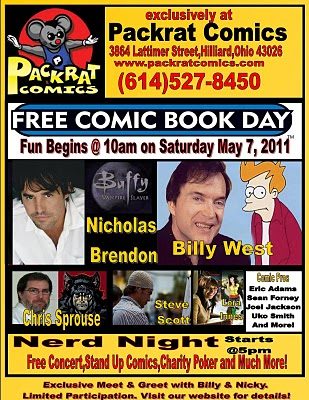 Nicholas Brendon, Billy West, Chris Sprouse, Steve Scott, and many more sign on May 7th, 2011.
Press Release:
Join us for 10th anniversary of Free Comic Book Day, loaded with actors, writers, artists, wrestlers, superheroes and of course free comic books! A festival of activities and games along with face painting and fun in the bounce house. Of course Nerd Night will be following FCBD in the evening!
Details, tickets for meet & greet and bio's can be found on our blog!
Actors:
Nicholas Brendon (Xander from Buffy the Vampire Slayer)
Billy West (Futurama, Ren & Stimpy, Howard Stern Show)
Nick Jones (John Stewart in Green Lantern live action movie)
Hang with The Dudes during an exclusive bowling meet & greet. Details can be found on our blog.
There is a small fee for autographs. You are welcome to bring your own item to have them sign it, but you will also be able to select from their photos. We will also have photo opportunities available with both Billy & Nicky. For $35 you can get your photo taken with them and get a personal autograph.
Artists:
Steve Scott
Chris Sprouse
Josh Medors
JD Larabee
Uko Smith
Scott D. Simmons
Victor Dandridge
Sean Forney
Joshua Peters
Lora Innes
Joel Jackon
James Moore
Jamie Snell
Dirk Manning
Molly Durst
Todd Beistel
Doug Hufford
Eric Adams
Max Ink
Seth Lyons
Matthew Swift
Bob Corby
Stephanie Forney
Nerd Night:
Live Wrestling
Charity Comic Book Poker Tournament (Billy & Nicky may be playing a few hands)
Open gaming
Bands Include:
Nerd Table
Seven Book Trilogy
The Out
Hubris
The Fritz
Packrat Comics
3864 Lattimer Street, Hilliard, Ohio 43026
(614) 527-8450