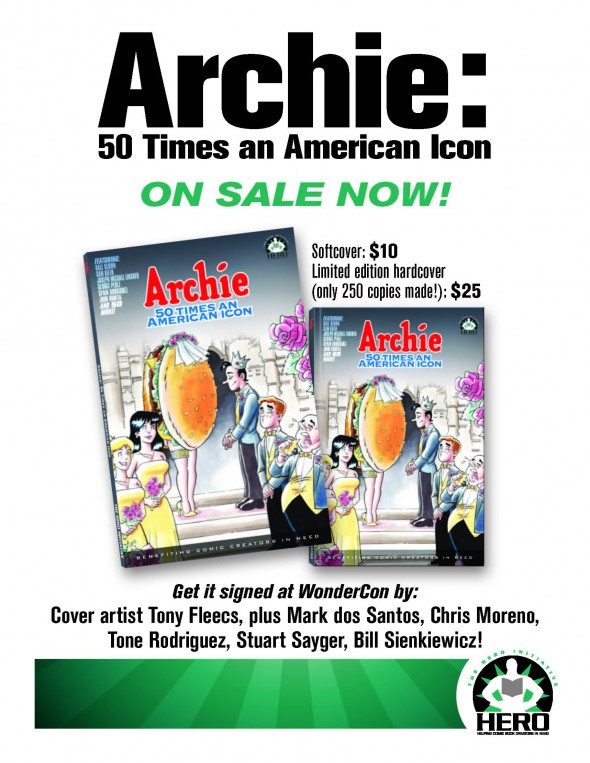 Press Release:
Hero Initiative Celebrates WonderCon's 25th Anniversary With A Fundraiser Sponsored by IDW for The Cartoon Art Museum and the Hero Initiative with Special Guest Berkeley Breathed
Sketch of your choice by Arthur Adams at Auction and Special Guests singings!
LOS ANGELES, CA: WonderCon celebrates its 25th anniversary in 2011 as one of the country's best comics and popular arts events on the West Coast! Hero Initiative, the non-profit organization that supports comic creators in financial need, will be there celebrating with the crowd at the Moscone Center South in San Francisco, Friday April 1 through Sunday April 3.
To help celebrate, The Hero Initiative and the Cartoon Art Museum proudly present the Annual WonderCon Weekend Party and Silent Auction, generously sponsored by IDW Publishing. The party will be held on Saturday, April 2, from 8pm to 11pm at the museum located at 665 Mission Street in San Francisco, right around the corner for the convention. Tickets for this event will be sold on a sliding scale from $10 to $100. Special incentives will be given for higher-level donations including membership, signed catalogs, and special limited edition prints. Advance tickets may be purchased through this link: http://guestli.st/48612. Capacity for this special event is limited, and advance reservations are recommended otherwise tickets can be purchased at the door. Don't miss out on the fun; you never know who will show up!
In addition, we are giving you a chance to get a convention sketch from master artist Arthur Adams! Go to: http://cgi.ebay.com/ws/eBayISAPI.dll?ViewItem&item=290548732226 for details, and you could win a single-character inked drawing of a character of your choosing. The winning bidder MUST be paid in full by April 1st and bring their PayPal receipt with photo ID to the Hero Initiative booth, #702.
At our booth we will have newly released Archie: 50 Times and American Icon book for sale! All 50 amazing covers have been donated from artists around the world to comprise this fantastic collection! Get it while supplies last! Don't forget to check out our line up for sketches and signatures. Proceeds all go to Hero Initiative's great cause. Check it out!
Booth schedule as follows:
Friday April 1, 12-7
Marv Wolfman 330-430
Jason Aaron 4-5
Francis Manapul 430-600
Saturday April 2, 10-7
Francis Manapul 1-3
Marv Wolfman 430-530
Sunday April 3, 11-5
Terry Moore 1-2
CAM
The Cartoon Art Museum is the only museum in the western United States dedicated to the preservation and exhibition of cartoon art in all its forms.
About The Hero Initiative:
The Hero Initiative is the first-ever federally chartered not-for-profit corporation dedicated strict to helping comic book creators in need. Hero creates a financial safety net for yesterday's creators who may need emergency medical aid, financial support for essentials of life, and an avenue back into paying work. It's a chance for all of us to give back something to the people who have given us so much enjoyment.
Since its inception, The Hero Initiative has had the good fortune to grant over $400,000 to the comic book veterans who have paved the way for those in the industry today. For more information, visit www.heroinitiative.org or call 626-676-6354.