I was shocked and saddened to hear that writer Dwayne McDuffie has died, according to a report at Comic Book Resources. Our condolences to his friends and family.
I never had the opportunity to meet Dwayne in person but was a Milestone Comics fan from the start with Static and Icon my absolute favorite titles being published at the time.
The biography on his website reads: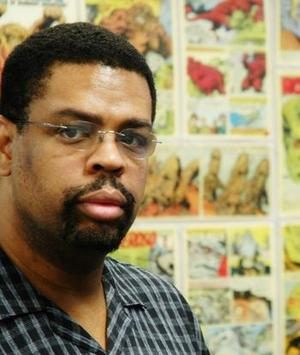 Dwayne McDuffie is best known as the co-founder and creator of Milestone Media. He is a Story Editor on the KIDS WB's Emmy Award-winning animated series STATIC SHOCK, which he co-created. He is also a Producer and Story Editor on Cartoon Network's JUSTICE LEAGUE. He is Editor-In-Chief of Milestone Media's award-winning line of comic books, managing an editorial operation which boasted the best on-time delivery record in the industry for nearly four years running and has also worked as an editor for Marvel Comics and Harvey Entertainment. As a writer, Dwayne has created or co-created more than a dozen series, including DAMAGE CONTROL, DEATHLOK II, ICON, STATIC, XOMBI, THE ROAD TO HELL and HARDWARE. He has written stories for dozens of other comics, including, SPIDER-MAN, BATMAN: LEGENDS OF THE DARK KNIGHT, THE TICK, CAPTAIN MARVEL, AVENGERS SPOTLIGHT, BACK TO THE FUTURE, HELLRAISER, ULTRAMAN, (The Artist Formerly Known As) PRINCE and X-O MANOWAR.
Dwayne won the 2003 HUMANITAS PRIZE for "Jimmy," a STATIC SHOCK script about gun violence in schools. He has been nominated for two EMMY AWARDS for the TV series STATIC SHOCK, a WRITERS GUILD AWARD for the TV series JUSTICE LEAGUE and three EISNER AWARDS for his work in comic books. His comic book work has won eleven PARENTS' CHOICE AWARDS, six "Best Editor" awards, and a GOLDEN APPLE AWARD for his "use of popular art to promote and enhance human dignity."
Dwayne was born and raised in Detroit, Michigan and attended The Roeper School. Before entering comics, he studied in undergraduate and graduate programs at The University of Michigan, then attended film school at New York University's Tisch School of the Arts. He also co-hosted a radio comedy program, while moonlighting pseudonymously as a freelance writer for stand-up comedians and late-night television comedy programs. He has written scripts for an animated feature, episodes of BEN 10: ALIEN FORCE, STATIC SHOCK!, JUSTICE LEAGUE, WHAT'S NEW, SCOOBY-DOO? and TEEN TITANS.