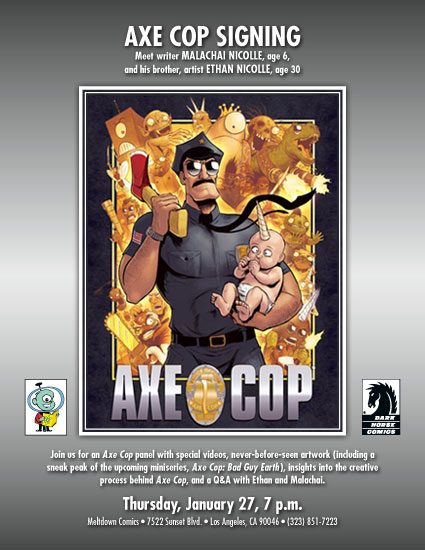 Ethan & Malachai Nicolle sign at Meltdown Comics on Thursday, January 27th at 7pm.
Meltdown Comics and Dark Horse Comics welcomes: Artist Ethan Nicolle and Writer Malachai Nicolle to Los Angeles, CA
Both signing copies of their collected 'Axe Cop' Vol. 1
In case you're new to the Internet, Axe Cop is a webcomic that became wildly popular over this past year for being awesome, and also because of the unique creative team; Axe Cop writer Malachai Nicolle was 5 when the series began and artist Ethan Nicolle, his older brother, was 29. The combination of the two's different talents have taken the world by storm!
On Thursday, January 27th, from 7:00pm to 10:00pm, fans will have the chance to purchase 'Axe Cop' Vol. 1, see a sneak-peak of the 'Bad Guy Earth' series with never-before-seen artwork, watch short movie about the creative process between the brothers, and participate in a Q&A with the creators moderated by the Chop Cast team. In addition to getting your brand-new copies of Axe Cop signed, you can purchase a special 18? x 24? two-color screen print!
Meltdown Comics
7522 Sunset Blvd, Los Angeles, CA 90046
323-851-7223