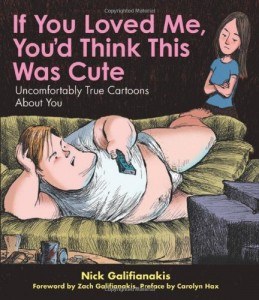 Press Release:
American cartoonist Nick Galifianakis will be touring his book, "If You Loved Me, You'd Think This Was Cute," signing copies for fans. Galifianakis' work can be seen alongside ex-wife Carolyn Hax's nationally recognized advice column – named by Time magazine America's best advice column. "Carolyn Hax" is syndicated in more than 300 newspapers in the US.
With no formal art training, Galifianakis is not just self-taught, but also influenced by his father who is a sculptor and painter. Galifianakis' early career saw him as an illustrator for "US News & World Report" and "USA Today." Almost as famous to locals in Falls Church, Virginia as Nick himself, his beloved dog Zuzu passed away in August 2010. Galifianakis maintains a blog, titled Nick and ZuZu, offering followers updates on his goings on.
Barnes & Noble Signing Information
1/29/2011 2:00 PM – University Village SC, 2675 NE University Village Street, Seattle, WA
1/31/2011 7:00 PM – El Cerrito Plaza, 6050 El Cerrito Plaza, El Cerrito, CA
2/02/2011 7:00 PM – Bella Terra, 7881 Edinger Ave. #110, Huntington Beach, CA
2/05/2011 2:00 PM – Arboretum, 10000 Research Blvd #158, Austin, TX
2/06/2011 2:00 PM – Metairie, 3721 Veterans Boulevard, Metairie, LA
2/08/2011 7:00 PM – Buckhead, 2900 Peachtree Road NE Suite 310, Atlanta, GA
2/13/2011 2:00 PM – Burlington, 98 Middlesex Pkwy, Burlington, MA
About the book
Everyone knows the only thing more painful than relationships is not having them–or is it the other way around? Whatever, says author and cartoonist Nick Galifianakis. In his first book, If You Loved Me, You'd Think This Was Cute: Uncomfortably True Cartoons About You, he makes the case that either way, the only recourse is to embrace our frailties and laugh.
Taken from Carolyn Hax's nationally syndicated advice column, this compilation spins the pain of dating, mothers-in-law, "beneficial" friends and more into … the pain of self-recognition. The intricately drawn pen-and-ink panels and pointed captions explore some of life's most uncomfortable truths, exposing the humanity in our mistakes, the underbelly of our triumphs and the sheer heroism of trying and trying again.
Throughout this character study of men and women (and the dogs who love them), Galifianakis mines our hopes and insecurities for a unifying truth: If we can't laugh at ourselves, he'll do it for us.
"Nick snuck me into my first comedy club when I was only a back-acned teenager. The back acne went away but the comedy stuck. I know that last sentence sounds like a lyric from a Joan Baez song, but trust me, it's original." –Zach Galifianakis, from the foreword
"Nick's cartoons are funny, witty, and smart. But what makes them so special are how universal and true they are, making the laughs they bring all the more poignant. Relationships, in all their glory, have never been captured quite so succinctly and with such charm." –Amy B. Harris, writer/producer for Sex and the City
"Nick Galifianakis understands relationships unbelievably well, for a guy. My guess is he actually menstruates." –Gene Weingarten, two-time Pulitzer Prize winner, Washington Post humor columnist
Source: Amazon's page for Nick Galifianakis' "If You Loved Me, You'd Think This Was Cute"