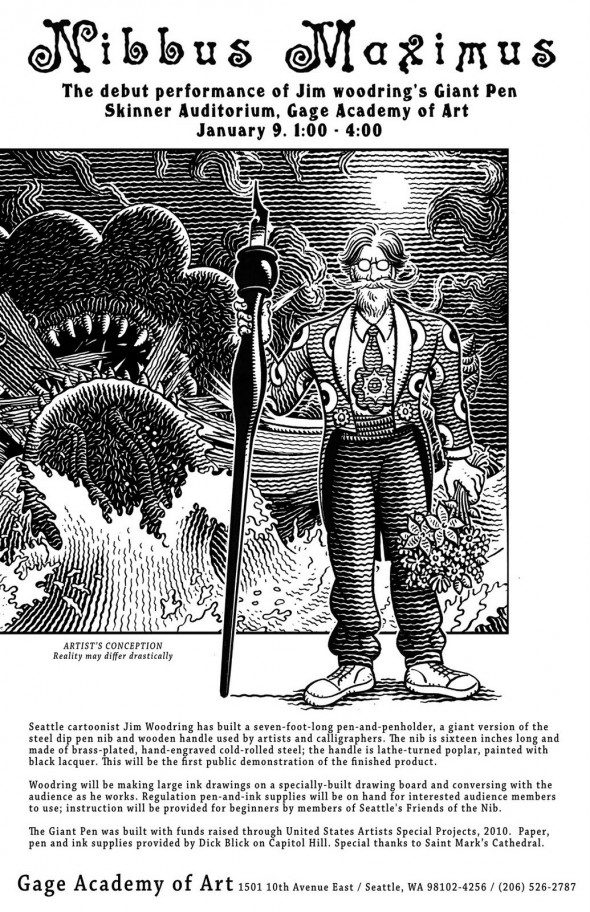 The debut performance of Jim Woodring's Giant Pen takes place on Sunday, January 9 from 1pm to 4pm at the Gage Academy of Art's Skinner Auditorium (1501 Tenth Avenue East, Seattle, WA 98102)
Seattle cartoonist Jim Woodring has built a 7-foot-long pen-and-penholder, a giant version of the steel dip pen nib and wooden handle used by artists and calligraphers. The pen will make its debut in the Skinner Auditorium of Gage Academy of Art on Sunday, January 9, from 1:00pm to 4:00pm.
The nib is 16 inches long and made of brass-plated, hand-engraved cold-rolled steel. The handle is lathe-turned poplar, painted with black lacquer. The ink is a specially formulated acrylic blend. A vase functions as an inkwell.
When this project was announced earlier this year it was met with heavy skepticism. Many felt a pen this size could not function because of the relationship between scale and fluid dynamics. Woodring was convinced it could be done, and the nib has performed well in tests with prototypes. This will be the first public demonstration of the finished product.
Woodring will be making large ink drawings (up to 4 x 6 feet) on a specially built drawing board and conversing with the audience as he works. Regulation pen-and-ink supplies will be on hand for interested audience members to use; instruction will be provided for beginners by members of Seattle's Friends of the Nib.
The Giant Pen was built with finds raised through United States Artists Special Projects, 2010. Free art supplies provided by Blick Art Materials on Capitol Hill, Fantagraphics will provide door prizes and refreshments are courtesy of Gage Academy of Art. Special thanks also to St. Mark's Cathedral.