Press Release:

Mid-Ohio Comic Con Launches 2010 Charity Auction on eBay
Columbus, OH – December 2, 2010 – Mid-Ohio Comic Con is pleased to announce the launch of its 2010 charity auction on eBay. The auction features original art and other creative work from the guests at this year's 30th anniversary show, many of whom made incredibly generous contributions. Of particular note, the auction includes all the giant sketches (19″ x 24″) done by artists on the Main Stage easel during the show as well as other contributed work, including sketchbooks, posters, and comics.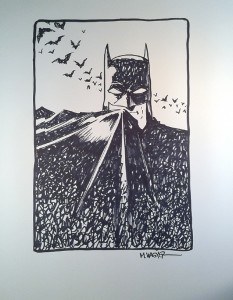 Proceeds from the auction will go to benefit the Hero Initiative, a non-profit organization that creates a financial safety net for comic creators who need emergency medical aid, financial support for the essentials of life, and an avenue back into paying work. "We are big believers in the Hero Initiative and are very pleased to see such strong support of its cause from the comic creators who donated their work to this year's auction," said James Henry, Managing Director of Mid-Ohio Comic Con.
Creators whose work is featured in the auction include Sergio Aragonés (Groo), Art Baltazar (Tiny Titans), Andy Bennett (Phantom), Pat Block (Scrooge), George Broderick (Christmas Eve), David Finch (Green Lantern), Chris Giarrusso (Mini Marvels), Michael Golden (Sketchbook), Lora Innes (Harley Quinn), Arvell Jones (Iron Fist), Todd Nauck (Impulse), Doug Paszkiewicz (Arsenic Lullaby), David Petersen (Mouse Guard), Steve Scott (Hulk), Arthur Suydam (Zombie King Kong), Mark Texeira (Ghost Rider), Billy Tucci (Wonder Woman), and Matt Wagner (Batman).
Mid-Ohio-Con 2010 was held at the Greater Columbus Convention Center in Columbus, OH on the weekend of November 6-7, 2010 and featured a who's who of creators from the worlds of comics, film, literature, and television, including featured comic guests David Finch, Adam Hughes, Frank Cho and Barry Kitson as well as featured media guests Michael Berryman Lou Ferrigno and many more. Visit Mid-Ohio-Con on Blogger for a recap of the incredible 30th anniversary show and for further information on the 2010 charity auction.
Mid-Ohio Comic Con 2011 will be held at the Greater Columbus Convention Center in Columbus, OH on the weekend of October 22-23, 2011. The event will showcase headline media guests Adam West and Burt Ward (Batman, natch!) along with featured comic guests Rob Liefeld (Deadpool, Youngblood, X-Force), Mike Grell (Warlord, Green Arrow), Greg Horn (Green Lantern, Emma Frost) and many more. Visit Wizard World's Mid-Ohio Comic Con web site for more information on the 2011 show and stay tuned for regular announcements and updates.