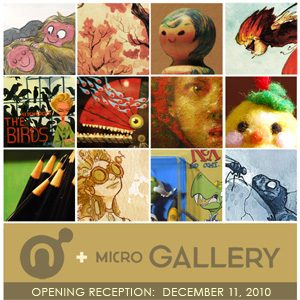 Nucleus warmly welcomes you to a gigantic, visual feast in micro proportions! Working within the 2×2 – 6×6 inch guidelines and in both traditional 2D and 3D media, this exhibit will feature an explosive roster of talent working in animation and visual development.
December 11, 2010 – January 4, 2011
Opening Reception / Dec 11, 7:00PM – 11:00PM
The Micro Show began with a group of animators and friends working at Disney. Creating personal, bite-size works of art was a respite from their daily creative grind and eventually they gathered all the pieces and displayed them in modest exhibits. On December 11, we bring you the most macro of the Micro Shows thus far. Featuring the talents working at Disney, Pixar, and Dreamworks, artists were invited to do everything but wallpaper our upstairs Atrium gallery with their micro-sized creations.
This exhibit is sure to be an awe-inspiring event, not to mention a personal glimpse into extraordinary talents and minds behind your favorite animated films!
Featuring Artists:
Andy Schuhler Story Artist
Aurian Redson, Story Artist
Austin Madison, Animator
Barbra Pushies
Ben Balistreri, Story Artist
Bill Perkins, VisDev Artist
Bill Schwab, VisDev Artist
Brian Kesinger, Story and Layout Artist
Brittany Lee, VisDev Artist
Cassia Harries: Sculptor
Chen-yi Chang, Story Artist
Chris Mitchell
Clio Chiang, Story Artist
Daniel Arriaga, VisDev Artist
Darren Webb, Story Artist
Dave Derrick, Story
Dave Pimentel, Head of Story
Don Hall, Director
Ed Gombert, Head of Story
Jeff Snow, Head of Story
Jeff Turley, VisDev Artist
Jenny Lerew, Story Artist
Jeremy Costello, Production Department Manager
Jeremy Spears, Story Artist
Jin Kim, VisDev Artist
Joe Moshier, Visual Development Artist
John Musker, Director
John Puglisi, Director
Josie Trinidad, Story Artist
Justin Cram, VisDev Artist
Kendelle Hoyer, Story Artist
Lauren MacMullen, Story Artist
Leo Matsuda, Story Artist
Lissa Treiman, Story Artist
Lorelay Bove, VisDev Artist
Louie Del Carmen, Story
Mark Kennedy, Head of Story
Mark Walton, Story
Michael Labash
Mike Gabriel, Art Director
Mike Giaimo, Art Director
Mike Lester, Story Artist
Mike Yamada
Minkyu Lee, Animator
Nagisa Koyama
Nancy Kruse, Story Artist
Nate Wragg, VisDev Artist
Nicole Mitchell, Story Artist
Normand Lemay, Story Artist
Paul Briggs, Head of Story
Pete Sohn
Raymond Persi
Ryan O'Loughlin, Story
Ryan Savas, Story Artist
Shane Prigmore, Head of Story
Shiyoon Kim, VisDev Artist
Steve Anderson, Director
Steve Macleod, Story Artist
Ted Mathot, Head of Story
Toby Shelton, Head of Story
Trevor Jimenez
Vi-Dieu Nguyen, Story Artist
Victoria Ying, VisDev Artist
Will Mata, Story Artist

…AND MORE!!
Gallery Nucleus
210 East Main St, Alhambra, CA 91801