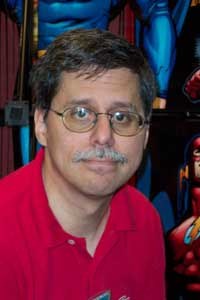 PAUL LEVITZ leads a discussion of how to construct plots to suit story structures long and short, building ideas from character, and tools for analyzing the form to develop your goals. Everything you ever wanted to know about plotting comics but were afraid to ask!
Q & A to follow.
MASTER CLASS: THE CRAFT OF COMICS WRITING: THE LONG AND SHORT OF PLOTTING with PAUL LEVITZ
Monday, December 6, 6:30-8:30 pm
Admission $40 | $35 for MoCCA Members
PAUL LEVITZ was born in Brooklyn, NY in 1956, and entered the comics industry in 1971 as editor/publisher of The Comic Reader, the first mass-circulation fanzine devoted to comics news. He continued to publish TCR for three years, winning two consecutive annual Comic Art Fan Awards for Best Fanzine. His other fan activities included editing the program books for several of Phil Seuling's legendary New York Comic Art Conventions. He received Comic-con International's Inkpot Award in 2002 and the prestigious Bob Clampett Humanitarian Award in 2008. Levitz also serves on the board of the Comic Book Legal Defense Fund.
Levitz is primarily known for his work for DC Comics, where he has written most of their classic characters including the Justice Society and Superman in both comics and the newspaper strip, and an acclaimed run on The Legion of Super-Heroes, a series he's recently returned to write. Readers of The Buyers' Guide voted his Legion: The Great Darkness Saga one of the 20 best comic stories of the last century, and visitors to the site comicbookresources.com selected the same story as #11 of the Top 100 Comic Book Stories of All Time.
Cumulatively, Levitz has written over 300 stories with sales of over 25 million copies, and translations into over 20 languages. As a DC staffer from 1973, Levitz was an assistant editor, the company's youngest editor ever, and in a series of business capacities, became Executive Vice President & Publisher in 1989 and then served as President & Publisher from 2002-2009. He continues as a Contributing Editor, but is now concentrating on his writing.
Museum of Comic and Cartoon Art
594 Broadway, Suite 401, New York, NY 10012
(btwn. Houston and Prince)