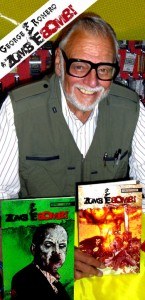 Press Release:
Fresh off a killer weekend at NYCC, the Terminal Press "ZombieBomb!" crew drags itself eastward for Rock and Shock 2010! The horror convention and music festival, now in its seventh year, runs from Friday, Oct. 15th to Sunday the 17th at the DCU Convention Center and The Palladium in Worcester, MA.
Setting up shop at the Convention Center, the TP booth will feature the New England debut of the newest book in the "ZombieBomb!" series, Highly Contagious. Fans will also be able to get their hands on original art, prints, and ZB! t-shirts signed by attending creators Adam Miller, Rich Woodall, Jerry & Josh Morrissette, Andrew Houle and Ryan Favazza.
With legendary zombie filmmaker George A. Romero as a featured guest of this year's convention, and acts like Rob Zombie playing all weekend, Rock and Shock is one of the absolute best places to get your undead fix this Halloween season.
Visit www.rockandshock.com/index.htm for tickets, guest lists and more information about this year's show!