Press Release:
MOBILE SUIT GUNDAM 00: A WAKENING OF THE TRAILBLAZER MOVIE TO PREMIERE AT NEW YORK ANIME FESTIVAL!
September 1, 2010 (Cypress, CA) – Sunrise announced today that the North America premiere of the movie, Mobile Suit Gundam 00: A wakening of the Trailblazer, will take place at New York Anime Festival/New York Comic Con on Sunday, October 10, 2:00-4:00pm. The movie will be subtitled in English with Japanese audio.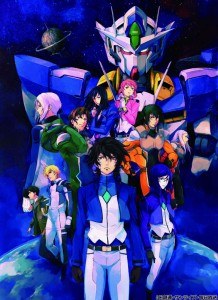 This movie is a two hour all original sequel to the television series Mobile Suit Gundam 00, which had two seasons and ran for 50 episodes. The movie will premiere in Japan on September 18th and will be released in some other Asian Countries this fall.
The series story was set at the dawn of the 24th century and the world was still torn by conflict, driven by the rivalry between three great superpower blocs. Then the private armed organization called Celestial Being appeared, announcing its intention to rid the world of war and conflict.
In the movie, the year is 2314 AD, two years after Celestial Being's last great battle, and the world faces a new crisis. A derelict Jupiter exploration ship, abandoned 130 years ago, has left its orbit and is approaching Earth. As Celestial Being and its Gundam Meisters begin their final mission to save humanity from an unimaginable threat, Gundam Meister Setsuna F. Seiei is about to discover the true purpose of his evolution as an Innovator, and the nature of the "dialogues" for which legendary scientist Aeolia Schenberg's plan has been preparing the human race.
The all original feature is directed by Seiji Mizushima, director of the television series.
ABOUT SUNRISE
Sunrise, Inc, a Namco Bandai Group Company, is an animation production studio who produces smash hit anime series like the original Mobile Suit Gundam, and all of the subsequent series in the Gundam franchaise, as well as Cowboy Bebop, Escaflowne and many more . The company is located in Suginami, Tokyo, Japan and was established in 1972. The President is Mr. Kenji Uchida. http://sunrise-inc.co.jp/international/index.html
ABOUT THE NEW YORK ANIME FESTIVAL:
The New York Anime Festival takes place at the Jacob K. Javits Center in Midtown Manhattan and is organized by Reed Exhibitions, the creators of New York Comic Con. The New York Anime Festival showcases the best of anime pop culture, including the latest anime, manga, Japanese cinema, music, and games, and anime-influenced comics, animation, and films from around the world. The festival features exclusive and extensive screenings, a gala cosplay masquerade, sessions with the some of the biggest names in anime from Japan, Asia, and America, and explores the Japanese cultural experience with displays of both traditional and cutting-edge Japanese life. (www.newyorkanimefestival.com)