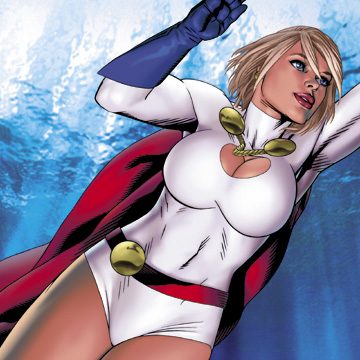 Press Release:
Exclusives Abound at Wizard World Chicago Comic Con! And for the first time EVER, Michael Golden's artwork will be featured as part of the VIP Package for the premiere upcoming pop-culture event!
Wizard World Chicago Comic Con is the place to be to collect exclusive prints, books, die cast cars, toys and other items, as more than 30 different pieces will be available only at the event, August 19-22 at the Stephens Convention Center in Rosemont, Ill.
But this eye-catching Power Girl piece by the co-creator of X-Men's Rogue, is available ONLY as part of the VIP exclusives. And it's certainly no mystery why Mr. G. was picked as part of this special promotion for the show.
During his career, Golden has been an editor at DC Comics as well as senior art director at Marvel Comics, and has worked on numerous movie production projects, including some currently in development. His art has been the focus of gallery shows in places as diverse as New York, Gijon and Barcelona, Antwerp and Brussels, and his class on storytelling has been conducted in Spain, Brussels, Canada, and the United States.
In addition to his groundbreaking art on titles such as "The 'Nam," "Micronauts,"  "G.I. Joe Yearbook," "The Avengers," "Batman," and "Dr. Strange," Golden's recent work can be seen on the covers of "Heroes for Hire," "Exiles," "Nightwing," "Uncanny X-Men," "Hulk Team-Up," "Wonder Woman," and  "Spiderman 1602," among much more! Books on his work include the recent publications "Excess: The Art of Michael Golden," "Modern Masters: Michael Golden," "Heroes and Villains," and "MORE Heroes and Villains," most of which will be available from Michael in artist's alley while supplies last.
Chicago Comic Con will easily be one of the top conventions of the year. And joining Golden at the event will be Eva Ink Artist Group contemporaries Mark Texeira and Steve Scott.
Currently Texeira is finishing up a Punisher limited series for Marvel Comics, and you no doubt know him from his stunning work on Ghost Rider, Moon Knight, Black Panther, Conan, and much more. Mark will have copies of his books "Babes and Brawn," and "Tex: The Art of Mark Texeira," at the show. 
Artist Steve Scott recently completed stints X-Men Forever, a Green Lantern special project and is currently working on a Batman story at DC Comics as well. At Wizard Chicago, Steve will be offering copies of his new sketchbook, "Steve Scott Sketches," while supplies last, as well as some exclusive prints!
This year's WWC also includes an impressive line-up from Hollywood including William Shatner, Linda Hamilton, James Marsters, Adam West, the Final Five Cylons from Battlestar Galactica, Linda Blair, Nicholas Brendon, Clare Kramer, Claudia Christian, Richard Roundtree, Julia Jones and many many more!
The line-up from the world of illustration and comics is also pretty amazing, and includes, along with Golden, Texeira, and Scott: Joe Madureira,  Arthur Suydam, Brian Pulido, J. Scott Campbell, Jim Calafiore, William Christensen,  Bill Sienkiewicz, Greg Horn, Stuart Sayger, Jill Thompson, Billy Tucci, Ethan Van Sciver, Leo Leibelman, James O'Barr,  Mike McKone, Geof Darrow, Gary Friedrich,  David Mack, Renee Witterstaetter, Mike Grell,  and tons more! It can certainly be said that Chicago Comic Con boasts one of the largest Artist Alley in the country!
In fact, this amazing event features over 500 special guests and celebrities from the world of comic books, film & television, wrestling, pop culture and more will be in attendance, and you will not want to miss out! And don't forget to sign up for the VIP package featuring that fantastic Michael Golden Power Girl print as well!
Chicago Comic Con runs from August 19-22, 2010 at the Rosemont Convention Center. For more information, go to: http://www.wizardworld.com
For more information on commissions, and appearances of artists Michael Golden, Mark Texeira, Steve Scott and Eva Ink Artist Group, contact Renee at: evaink@aol.com