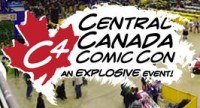 Press Release:
The Central Canada Comic Con in Winnipeg, MB Canada is running from October 29-31, 2010.  More information on the convention can be found
at the website.
The con has recently announced it's full Artist Guest Line-up from the industry's top artists:
Norm Breyfogle – Legendary Batman Artist
Andrew Wildman – Legendary Transformers Artist
Alex Milne – Transformers Megatron Origin and Drift Artist
Scott Kolins – The Flash, and Rogue's Revenge Artist
Marcio Takara – The Incredibles Artist
Tommy Castillo – Toe Tags, and Legends of the Dark Knight Artist
Yanick Paquette – Avengers, Ultimate X-Men, and Civil War X-Men Artist
And Many More International and Local Artists!
Weekend Passes: $25 Cdn
Daily Passes: $13.50
Weekend Pass holders also get a supplies limited Schwag Bag with a chance of getting one of many artist guest sketch cards.  Other original cards and artwork will be featured in the C4 Art Auction held on Sunday.