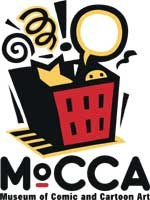 The Museum of Comic and Cartoon Art – MoCCA is pleased to announce that Exhibitor Tables are now available for the MoCCA Festival 2011!
The 2011 Festival will take place over April 9 and 10. The annual two-day event attracts thousands of comic art lovers and creators from around the globe to celebrate one of the world's most popular art forms in the heart of New York City. MoCCA Fest 2011 will again take place at the historic 69th Regiment Armory at 68 Lexington Avenue, New York, NY.
Since 2002 the MoCCA Festival offers a unique venue to experience comics, minicomics, web comics, graphic novels, animation, posters, prints, original artwork, and more. Each year, the Festival invites dozens of established and emerging creators, scholars, and other experts to participate in two days of lecture/discussion panels on a variety of comics and cartoon topics. Past exhibitors include Abrams ComicArts, ACT-I-VATE, Ad House, Bill Plympton, Bries, Candle Light Press, Center for Cartoon Studies, Comics Bakery, Drawn & Quarterly, Evil Twin Comics, Fantagraphics, Hope Larson, Liz Baille, Pantheon, Rick Parker, School for Visual Arts, TopatoCo, Top Shelf, Tug Boat Press, World War III, and many, many more.
For the 2011 Festival MoCCA is offering special prices for student exhibitors: $295 for a full table, and just $177 for a half table. Students must include a copy of their valid student ID to be eligible for the special price. There are only a limited number of these student spaces available, so act fast!
Exhibitor Tables are now available for the MoCCA Festival 2011!
Now through December 31st exhibitor table prices are:
MoCCA Member Full Table: $360
General Full Table: $399
MoCCA Member 1/2 Table: $210
General 1/2 Table: $250
Student Full Table: $295
Student 1/2 Table: $177
(students must submit valid student ID with application)
Reserve your space now, as prices are guaranteed to go up after December 31st, 2010!
Registration forms are available on the MoCCA website at here!
Registrations will be accepted on a first come, first served basis beginning August 10th by fax (212-254-3590), mail (594 Broadway, ste. 401, New York, NY 10012), email (exhibitors@moccany.org), and in person only.