Press Release:

THE CULTYARDâ"¢ COMES TO NEW YORK CITY
The Cultyard, Inc. Joins Forces with Reed Exhibitions to Create a Premier Art and Design Pavilion at the 2010 New York Comic Con
Norwalk, CT, July 13, 2010: ReedPOP's New York Comic Con (NYCC) and The Cultyard, Inc. have today announced a partnership which will bring a new and focused pavilion for Art, Design, Collectible Toys, Pop-Tech, and Fashion to the New York Comic Con, October 8-10th, 2010 at the Jacob K. Javits Center in New York City. Working as consultant and ambassadors, the Cultyard will work to assist ReedPOP in expanding their hugely popular show, already the second largest event in NYC — enlisting the tastemakers, virtuosos, trendsetters, artists, thinkers, movers-doers and shakers of this potent design community and the potent brands they create. ReedPOP's NYCC draws nearly 80,000 passionate fans, followers, exhibitors, and press. The Cultyard is excited to bring a unique brand of art, art-related ideas, and products into this dynamic event.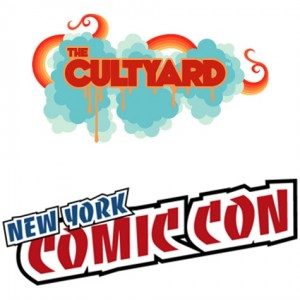 The Cultyard and NYCC are pleased to reveal that the following well-known names from the collectibles space have already pledged to exhibit within The Cultyard pavilion at the show: Tokidoki, Toy Tokyo, DKE, StrangeCo, Tenacious Toys, myplasticheart, Toyqube, and Mimoco. Additionally, artists appearing inside The Cultyard at NYCC will already include Simone Legno, Tara McPherson, and pushead.
Initially launched at the Comic Con International in 2004, The Cultyard has become a premier show-within-a-show for the art and design subculture genres. The Cultyard was conceived and is curated to showcase a premium list of creative lifestyle companies whose products include collectible designer toys, urban apparel, art and illustration, independent magazine publications, animation, tech and entertainment. Since its founding, The Cultyard has evolved into an influential shapeshifting community of apparel brands, art and design merchandisers, galleries, licensing organizations, independent entertainment juggernauts, and other creative businesses.
"ReedPOP's NYCC is a perfect fit for the Cultyard," states Jonathan Cathey, co-founder of The Cultyard, Inc. "It already exerts a great pop culture influence in one of the most design savvy cities in the world, and we are happy to take our circus on the road with them for a weekend of art and design proliferation."
"The New York Comic Con is a showcase for the worlds of popular culture, and we're proud now to expand our scope into the realms of indie and underground toys and art," notes Larry Settembrini, Sales Manager for NYCC and other ReedPOP events. "We put emphases on comic books, movies, television, anime, manga, and video games, and now — through this partnership with The Cultyard — we anticipate strong success and participation by a variety of forward-thinking brands in one of the most artistic, edgy, influential areas of the popular arts."
Tickets for NYCC are available now at www.nycomiccon.com. Other information about the show, which is co-located with the New York Anime Festival, as well as general news about ReedPOP, which also organizes Star Wars Celebration, is available via the Show Director Lance Fensterman's blog, www.mediumatlarge.net.
ABOUT REEDPOP:
ReedPOP is a boutique group within Reed Exhibitions which is exclusively devoted to organizing events, launching and acquiring new shows, and partnering with premium brands in the pop culture arena. ReedPOP is dedicated to producing celebrations of popular culture throughout the world that transcend ordinary events by providing unique access and dynamic personal experiences for consumers and fans. The ReedPOP portfolio includes: New York Comic Con (NYCC), Chicago Comic & Entertainment Expo (C2E2), Penny Arcade Expo (PAX) East & West, Star Wars Celebration V, New York Anime Festival (NYAF), and UFC Fan Expo. The staff at ReedPOP is a fan-based group of professionals producing shows for other fans, thus making them uniquely qualified to service those with whom they share a common passion. ReedPOP is focused on bringing its expertise and knowledge to world communities in North America, South America, Asia, and Europe.
ABOUT NEW YORK COMIC CON:
New York Comic Con is the East Coast's biggest and most exciting popular culture convention. Our show floor plays host to the latest and greatest in comics, graphic novels, anime, manga, video games, toys, movies, and television. Our panels and autograph sessions give fans a chance to interact with their favorite creators. Our screening rooms feature sneak peeks at films and television shows months before they hit either big or small screens. And with dedicated professional hours, New York Comic Con is a market place, bringing together the major players in the entertainment industry. New York Comic Con is the second largest pop culture convention in America and the only one that takes place in the comic book, publishing, media, and licensing capital of the world — Gotham City. (www.newyorkcomiccon.com)