Press Release:
Tom Welling and "Smallville" Cast and Producers Return to Comic-Con in Advance of the Show's 10th and Final Season
Long-Running Hit Series Makes its Last Con Appearance on Sunday, July 25.
July 8, 2010 — Calling all "Smallville" fans – from Metropolis to San Diego! Series star/executive producer Tom Welling with the cast and producers of "Smallville" return to Comic-Con International: San Diego on Sunday, July 25, to celebrate the show's 10th and final season as well as its final appearance at the world's greatest pop culture convention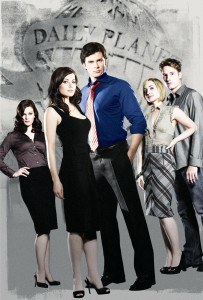 Making his second appearance at Comic-Con, Welling will join showrunners Kelly Souders and Brian Peterson, as well as series stars Erica Durance, Cassidy Freeman and Justin Hartley, for the show's panel session on Sunday at 10:00–11:00 a.m. in Ballroom 20 of the San Diego Convention Center. Featuring an exclusive sneak peek at clips from the final season's premiere episode, the panel will answer fans' questions and provide a look at what lies ahead on the acclaimed super hero series. Acclaimed writer/producer Geoff Johns ("Smallville," chief creative officer at DC Entertainment) will moderate.
"Smallville" returns on Friday nights this fall, airing at 8/7c on The CW: The series premieres on September 24. In advance of the final season, Warner Home Video will release "Smallville: The Complete Ninth Season" on Blu-rayTM and DVD on September 7.
For additional information about "Smallville" and Warner Bros. Television activities at Comic-Con, follow us on Twitter @TheWBdotcom – hashtag #WBSDCC – or log on to www.TheWB.com/ComicCon.
SOCIAL MEDIA LINKS
TWITTER
"Smallville" @CW_Smallville
Smallville" Writers @SV_Writers
Cassidy Freeman @cassidyfreeman
FACEBOOK: www.facebook.com/Smallville
Soaring into its 10th and final season, "Smallville" culminates in the epic rise of the world's ultimate hero – Superman. Working alongside the intrepid Lois Lane (Erica Durance) at the Daily Planet, Clark Kent (Tom Welling) had accepted his destiny as the guardian of Metropolis when General Zod arrived, challenging Clark's authority and power. Just when the romance between Clark and Lois began to bloom, Clark was called into duty by the legendary Justice Society and his own burgeoning league of heroes to fight the gathering dark forces. As season nine drew to a close, Clark sacrificed himself to save the world from Zod. Now, the final season promises the classic reuniting of the timeless romance between Clark and Lois – and brings Clark face to face with destiny as he overcomes his final trials and forges the iconic identity that will be known for all time.
The series, based upon DC Comics characters, is from Tollin/Robbins Productions, Millar/Gough Ink in association with Warner Bros. Television. "Smallville" is executive produced by Kelly Souders & Brian Peterson, James Marshall, Mike Tollin, Brian Robbins, Joe Davola and Tom Welling, and was developed for television by Alfred Gough & Miles Millar. SUPERMAN was created by Jerry Siegel and Joe Shuster.