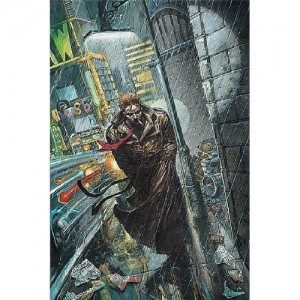 Simon Bisley and Peter Milligan sign Hellblazer: Hooked (Titan Edition) at the Forbidden Planet Megastore, 179 Shaftesbury Avenue, London, WC2H 8JR, on Saturday 7th August from 1 – 2pm.
Chain-smoking occultist anti-hero John Constantine is back in this new volume! After getting dumped by his girlfriend, Constantine goes to extremes to get her back. But will he sink to a new low by using a love potion? Constantine's enemy, the Babylonian shape-shifting demon Julian, and the hot young alchemist-gangster's daughter Epiphany will certainly have something to say about this turn of events.
Peter Milligan is an acclaimed British comics writer and alumnus of 2000AD. Milligan was one of the founding writers of DC's cutting edge Vertigo imprint, and has written a huge array of titles, including Animal Man, Tank Girl, Shade: The Changing Man, and X-Force. In addition to being the series writer on Hellblazer, he is currently working with Davide Gianfelice on the series Greek Street.
Forbidden Planet is the largest store of its kind in the world. Some of the biggest names in Sci-Fi, Fantasy, Comics and Cult Entertainment have come to our London Megastore for signing events, including: Sam Raimi, Kevin Smith, Jonathan Ross, Neil Gaiman, Terry Pratchett, Terry Gilliam, Simon Pegg, William Gibson, Mark Millar, Guillermo Del Toro and Stephen King. For more news about signings please go to the website