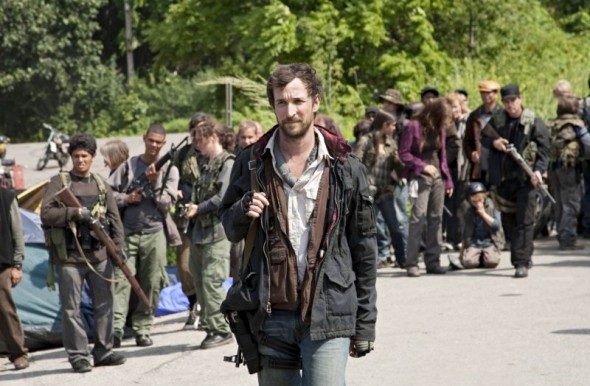 Press Release:
TNT to Invade Comic-Con with FALLING SKIES, Eagerly Anticipated Series from DreamWorks Television and Executive Producer Steven Spielberg, Starring Noah Wyle
The resistance is coming to Comic-Con. TNT is going to give fans the very first look at the eagerly anticipated new series FALLING SKIES, from DreamWorks Television and executive producer Steven Spielberg, starring Noah Wyle. The gripping drama series, slated to premiere in summer 2011, envisions a world where aliens have invaded, and the fate of humanity lies in the hands of a few survivors. Series stars Wyle (ER, TNT's The Librarian movies) and Moon Bloodgood (Terminator Salvation) will join co-executive producer and writer Mark Verheiden (Heroes, Battlestar Galactica) at Comic-Con for a Q&A panel session scheduled to take place Friday, July 23, from 4:45 p.m. – 5:45 p.m. (PT) in Room 6A. They will also be available for an autograph signing, time and location to be announced.
In FALLING SKIES, Wyle stars as a former college professor who becomes the leader of a group of soldiers and civilians struggling against an occupying alien force. Bloodgood co-stars as Anne Glass, a therapist who works with the surviving children to help them cope with the traumatic situation. The series also stars Drew Roy (Lincoln Heights) as Hal and Maxim Knight (Brothers & Sisters) as Matt, Tom's two sons; and Seychelle Gabriel (Weeds) as Lourdes, an orphaned teenager who helps run the group's commissary. Will Patton (Armageddon, TNT's Into the West) plays a fierce leader of the resistance.
FALLING SKIES is executive-produced by Steven Spielberg, along with DreamWorks Television heads Justin Falvey and Darryl Frank and screenwriter Robert Rodat. Rodat, who earned an Oscar® nomination for his screenplay for Saving Private Ryan, wrote the pilot from an idea he co-conceived with Spielberg. Verheiden and Greg Beeman (Heroes, Smallville) are co-executive producers. The pilot was directed by Carl Franklin (One False Move, Out of Time).
TNT, one of cable's top-rated networks, is television's destination for drama. Seen in 99.6 million households, the network is home to such original series as The Closer, starring Kyra Sedgwick; Leverage, starring Timothy Hutton; and Dark Blue, starring Dylan McDermott; the upcoming Rizzoli & Isles, starring Angie Harmon and Sasha Alexander; Memphis Beat, with Jason Lee; Men of a Certain Age, with Ray Romano, Andre Braugher and Scott Bakula; and Southland, from Emmy®-winning producer John Wells (ER). TNT also presents such powerful dramas as Bones, Supernatural, Las Vegas, Law & Order, CSI: NY, Cold Case and Numb3rs; broadcast premiere movies; compelling primetime specials, such as the Screen Actors Guild Awards®; and championship sports coverage, including NASCAR and the NBA. The NCAA men's basketball tournament will appear on TNT beginning in 2011. TNT is available in high-definition.
Turner Broadcasting System, Inc., a Time Warner company, creates and programs branded news, entertainment, animation and young adult media environments on television and other platforms for consumers around the world.