Press Release:

FREDDY KRUEGER CLAWS HIS WAY BACK TO ORLANDO
Orlando, FL – One, two, Freddy's coming for you, three, four there's a lot in store…as Spooky Empire's Ultimate Horror Weekend dusts off their coffins for another spooktacular year. This year's event returns to the Wyndham Orlando Resort on October 8-10, 2010. Spooky Empire's Ultimate Horror Weekend is fast becoming one of the most popular horror events in U.S. with fans coming from all over the world to attend. Last years show was monstrous, with the most fans in attendance so far, reaching record breaking numbers.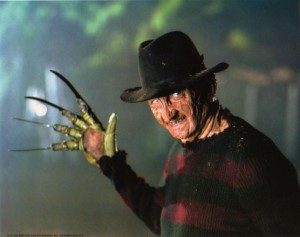 Their first guest announcements, which have already caused a stir, include a Nightmare on Elm Street reunion featuring the gloved one himself, Robert Englund "Freddy Krueger", John Saxon, Heather Langenkamp, and Amanda Wyss. From Friday the 13th, horror's favorite mother Betsy Palmer "Mrs. Vorhees" makes an appearance along with Adrienne King. Also in attendance will be Danny Trejo of films such as The Devil's Rejects and From Dusk Til Dawn. Danny will be there supporting his two upcoming films Machete and Predator. It's a family affair with father and son duo Jake Busey "The Frighteners" and "Starship Troopers" who is making a return appearance, and his dad the legendary Gary Busey star of over a hundred films including Point Break and Silver Bullet. The master of special FX, Tom Savini "Dawn of the Dead" will be there as well, plus many, many more to be announced over the next few months!
Advance tickets for this ultimate event will be available starting this Monday, May 24th at 9am ! $50 gets you in for the whole weekend, that's all three days of horror mayhem! One day passes are just $30 and $35. Visit the website www.spookyempire.com. VIP packages are available for $199 and include advance entry for each day of the show, a fast pass for the autograph lines, an exclusive VIP party on Saturday night, and a limited edition T-Shirt.
Make sure you reserve your rooms early this year. Last year sold out quickly and you don't want to pass up the opportunity to stay on the premises, you don't want to miss a thing. Rooms at the Wyndham are just $99 a night, if you mention "Spooky Empire" when you call for reservations. The Wyndham reservation line is 1-800-421-8001. You can also reserve your room via the website www.spookyempire.com
Join the legions of Spooky Empire fans on their Forum at www.spookyempire.com. Meet other fans, get answers to your questions, and find out the most recent updates on the show. You can also find and keep up with Spooky Empire on social networking sites such as Facebook, MySpace, and Twitter.
For more information visit the website at www.spookyempire.com or call the Spooky Empire Hotline 954-258-7852.
Contact:
Pete Mongelli
Spooky Empire, Inc.
954-258-7852
http://www.spookyempire.com