Press Release:
It's 1968 and the End of the World at Phoenix Comicon
Kidwell, Jones and Fotos will Relaunch '68 at the Phoenix Comicon
Phoenix, AZ April 28th 2010: The creators of Vietnam- zombie war ridden comic '68 recently announced its relaunch and will be promoting it with a limited edition print at Phoenix Comicon. '68 is published by Image Comics with Mark Kidwell ( Bump, Frazetta's Dark Kingdom), Nat Jones (Frazetta's Death Dealer, Rob Zombie's The Nail) and Jay Fotos (Frazetta's Death Dealer, Locke & Key).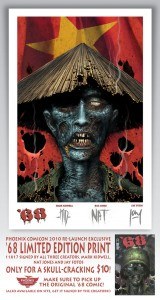 "I'm so excited!" said Andrea Beasely-Brown, Horror Programming Manager for the Phoenix Comicon, "Zombies just make everything better."
The '68 miniseries picks up right where the original tale left off and broadens its scope, encompassing not only the gore-soaked horrors of the war in Vietnam, but fixing a bloodshot eye on the politically torn USA as the dead rise, heralding the apocalypse and devouring anything with a pulse.
To celebrate the continuation of '68, Kidwell, Jones and Fotos will be attending the 2010 Phoenix Comicon, May 27-30, 2010. The creators are proud to present an exclusive, limited edition print — a gruesome, full-color 11″ x 17″ depiction of Napalm Charlie — signed by Kidwell, Jones and Fotos.
"The Phoenix Comicon is hot!" said local creator Jay Fotos, "I'm so happy that Mark, Nat and I will be here to unleash the plague of the '68 re-launch, the fans have been dying for it and so have we!"
"The zombies will be moaning for more than just brains this year," says Matt Solberg, Phoenix Comicon Convention Director, "They'll be wanting these limited edition prints!"
Image Comics is a comic book and graphic novel publisher founded in 1992 by a collective of best-selling artists. Image has since gone on to become one of the largest comics publishers in the United States. Image currently has five partners: Robert Kirkman, Erik Larsen, Todd McFarlane, Marc Silvestri and Jim Valentino. It consists of four major houses: Todd McFarlane Productions, Top Cow Productions, Shadowline and Image Central. Image publishes comics and graphic novels in nearly every genre, sub-genre, and style imaginable. It offers science fiction, romance, horror, crime fiction, historical fiction, humor and more by the finest artists and writers working in the medium today. For more information, visit www.imagecomics.com .
Phoenix Comicon is the signature pop culture event of the southwest, presenting guests and programming for hobbyists and fans by attracting the top segments of the comics, anime, sci-fi, film, TV, and gaming industries. Entering its ninth year, Phoenix Comicon is expected to draw over 10,000+ attendees to its May 27-30, 2010 convention held at the Phoenix Convention Center and Hyatt Regency located in downtown Phoenix.
For more information, please go to http://www.phoenixcomicon.com