Press Release:

PUBLISHER TO DEBUT FRAGRANCE LINE AT C2E2
TOP COW, HERO INITIATIVE AND BLACK PHOENIX ALCHEMY LABS TEAM UP FOR SIGNATURE WITCHBLADE FRAGRANCE LINE
LOS ANGELES, Calif., April 12, 2010 – Top Cow Productions, Inc. is proud to announce the publisher has partnered up with Black Phoenix Alchemy Labs to launch the WITCHBLADE Fragrance line, with a portion of each purchase to be donated to Hero Initiative. The WITCHBLADE Fragrance line will debut at this month's C2E2 convention in Chicago.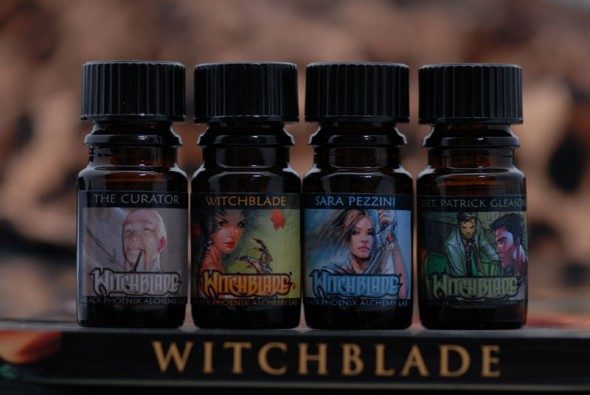 The WITCHBLADE Fragrance line features 5ml perfume oil blends based on the characters from Top Cow's Witchblade series, including Witchblade (Antediluvian, sacred metal, glowing red musk, blessed frankincense, antiqued amber), Witchblade-bearer Sara Pezzini (Hint of leather and an understated vintage musk layered over the scent of lightly perspiring, honey-dusted skin), Detective Patrick Gleason (A classic men's cologne splashed over a leather trench coat with a hint of gunshot residue) and the Curator (Mysterious herbs and ancient resins). The Sara Pezzini and Witchblade scents are meant to be layered together, but can be worn alone.
The WITCHBLADE Fragrance line retails at $26 a bottle, and will be available for purchase at the Black Phoenix Alchemy Labs booth at C2E2 (#951). For every purchase, five dollars will be donated to the Hero Initiative. Following the show, the WITCHBLADE Fragrance line will be available online at www.blackphoenixalchemylab.com.
The C2E2 (Chicago Comic & Entertainment Expo) convention will be held at McCormick Place in Chicago, Illinois for the weekend of April 16-18, 2010.
About Top Cow Productions Inc.
Top Cow Productions, Inc. (www.topcow.com), a Los Angeles-based entertainment company, was founded in December of 1992 by artist Marc Silvestri, who also co-founded Image Comics earlier that same year. Top Cow currently publishes its line of comic books in 21 languages in over 55 different countries. The company has launched 20 franchises (18 original and two licensed) in the industry's Top 10, seven at #1, a feat accomplished by no other publisher in the last two decades. Its flagship franchise, WITCHBLADE, was TNT's #1 original film of 2000 and the subsequent TV series was released on DVD on July 29, 2008. A feature film, co-produced by Platinum Studios, Inc. and Arclight Films, is slated to begin production in Australia with director Michael Rymer. WITCHBLADE is also the first American property to be fully adapted in Japan as an original anime and manga by Studio GONZO in 2006. Top Cow's other flagship property, THE DARKNESS, was developed into a major next-generation video game release by Starbreeze and 2K Games and achieved platinum sales status. WANTED, an Eisner-nominated miniseries published by Top Cow from 2003-2005, is now a major motion picture from Universal Pictures starring Angelina Jolie, James McAvoy and Morgan Freeman. Virtually all of Top Cow's other properties are in development as feature films, live-action television, animation or video games. Top Cow has also successfully licensed and merchandised its franchises into toys, statues, clothing, lithographs, puppets, posters, magnets, shot glasses, lighters, lunch pails, wall scrolls, mouse pads, die-cast cars, calendars, Christmas ornaments, Halloween masks, trading cards, standees, video games and roleplaying games.
About Black Phoenix Alchemy Lab
Black Phoenix Alchemy Lab (www.blackphoenixalchemylab.com) is a cult perfume house that crafts hand-blended body and household scents. They have over two decades of experience in the field, and specialize in eliciting emotional responses through perfume while creating unique scent environments that capture legends and folklore, poetry, and the stuff of dreams and nightmares.
Black Phoenix has several literature-based fragrance lines, including Alice in Wonderland, and the works of Neil Gaiman, and H.P. Lovecraft. With the success of scent lines created to benefit the Comic Book Legal Defense Fund and the Hero Initiative, they have found themselves in demand as a creator of fragrances based on comic properties.
About The Hero Initiative:
The Hero Initiative is the first-ever federally chartered not-for-profit corporation dedicated strict to helping comic book creators in need. Hero creates a financial safety net for yesterday's creators who may need emergency medical aid, financial support for essentials of life, and an avenue back into paying work. It's a chance for all of us to give back something to the people who have given us so much enjoyment.
Since its inception, The Hero Initiative has had the good fortune to grant over $400,000 to the comic book veterans who have paved the way for those in the industry today. For more information, visit www.heroinitiative.org or call 626-676-6354.