Press Release:

It's Crazy! Gogos Crazy Bones Free To Kids 10 And Under At Toronto Comic Con Courtesy of Irwin Toy
NEW YORK and TORONTO, March 22, 2010 – Fans 10 and under attending Toronto Comic Con, March 26-28, 2010, at the Direct Energy Centre will receive a free Gogos Crazy Bones toy, courtesy of Toronto-based Irwin Toy. The popular items will be distributed, while supplies last, at the Registration area upon arrival.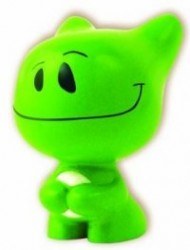 Gogos Crazy Bones are a collectable, mini game toy sensation. They are small, colorful figures whose gaming origins date back to Ancient Greece, where children played by bouncing and throwing knuckle bones. These more refined, plastic characters are available in the hundreds, each one having a unique face and name.
Gogos Crazy Bones was named the 2009 British Toy and Hobby Association (BTHA) Collectable Toy of the Year. The characters have recently been hugely popular in Europe and Australia and were first a big hit in the U.S. more than a decade ago, when 31.5 million packages were sold from 1998-2000.
"Having an international sensation like Gogos Crazy Bones available free to kids is a great bonus for Toronto Comic Con attendees," said Gareb Shamus, Wizard Entertainment CEO. "It's particularly gratifying to be partnering with Irwin Toy, which in addition to being based in Toronto, has been a leader in the industry for more than 80 years."
"We are pleased to be providing free Gogos Crazy Bones right in our backyard at Toronto Comic Con," said Peter Irwin, Irwin Toys. "It is extremely special for Irwin Toys to participate in the inaugural show here, since Gareb has been a family friend for as long as my father and I can remember."
Toronto Comic Con brings together fans of comics, toys, collectibles and offers a chance to see actors, writers, artists and the best each industry has to offer.
For more Toronto Comic Con guest and programming updates, check out our fan page TORONTO COMIC CON on Facebook.
Save up to 15 percent off the price of tickets by ordering your tickets in advance. Tickets are priced higher at the door.
About Gareb Shamus:
Gareb Shamus founded Wizard Entertainment in 1991. Today, Shamus publishes consumer magazines Wizard, ToyFare, FunFare and numerous books about pop-culture's top talent, comic books and toys. Shamus also produces a North American Comic Con tour.
Wizard World Comic Con Tour:
March 26-28, 2010, Toronto Comic Con, Direct Energy Centre
April 16-18, 2010, Anaheim Comic Con, Anaheim Convention Center
June 11-13, 2010, Philadelphia Comic Con, Pennsylvania Convention Center
August 19-22, 2010, Chicago Comic Con, Donald E. Stephens (Rosemont) Convention Center
October 1-3, 2010, New England Comic Con, John B. Hynes Veterans Memorial Convention Center
October 7-10, 2010, Big Apple Comic Con, Pier 94
October 15-17, 2010, New Jersey Comic Con, New Jersey Convention and Expo Center
November 12-14, 2010, Austin Comic Con, Austin Convention Center
December 3-5, 2010, Atlanta Comic Con, Cobb Galleria Centre
Cincinnati Comic Con, TBD
Cleveland Comic Con, TBD
Nashville Comic Con, TBD
About Irwin Toy
IToys Inc. has been actively capturing children's imaginations for more than 80 years.
Founded in 1926 by Sam and Beatrice Irwin as an importer and distributor of dry goods and apparel in Canada, Irwin Toy (www.irwintoy.com) broadened its merchandise focus in the decades that followed, ultimately landing the company firmly in the toy arena, where it has earned its well-deserved reputation as a venerable family-led enterprise with its finger on the pulse of today's kids.
Known as IToys, Inc. since 2003, the toy and game manufacturer is now led by the Irwin's sons, George and Peter, who have effectively reshaped the business for a new generation of children. IToys Inc. has emerged as a leading international manufacturer of homegrown and licensed toys available at leading retailers around the globe.