Press Release:

Hero Initiative at Canada's best comic con Wizard World Toronto!
Get your Grove on at Wizard World's Official Party at The Social
Sponsored by Hero Initiative
(For Immediate Release), Los Angeles, CA: Join Hero Initiative and thousands of fellow fans as they converge in Canada at Toronto Comic Con, March 26, 27 & 28 at the Direct Energy Centre, Exhibition Place. Hero Initiative, the non profit organization helping comic creators in hard times, will be celebrating the best in pop culture by bringing special guests for signatures and sketches.
In addition, we are proud to sponsor the Official Wizard World party! Saturday evening from 9pm to 2am at the Social, 1100 Queen Street West in Toronto. Come get your grove on with the folks from Wizard, your favorite comic creators and actor guests. Fifteen dollars at the door will get you to this most exclusive party of the weekend. The first lucky100 party-goers will receive a bag of exclusive goodies, and you can bid on art donated by many of the guests! You won't want to miss out on this bash!
Our Wonderful guest line up is as follows: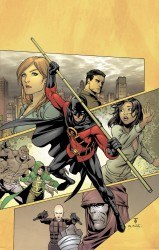 FRI., 26 MAR, con hours 1200-800:
300-400: Marcus To
600-700: Gail Simone
SAT., 27 MAR, con hours 1000-700:
1030-1230: Ken Lashley
1230-230: Leonard Kirk
230-430: Richard Isanove
300-400: Marcus To
430-630: Phil Jiminez
SUN., 28 MAR, con hours 1000-500:
1230-230: Leonard Kirk
300-400: Marcus To
230-430: Richard Isanove
About The Hero Initiative:
The Hero Initiative is the first-ever federally chartered not-for-profit corporation dedicated strict to helping comic book creators in need. Hero creates a financial safety net for yesterday's creators who may need emergency medical aid, financial support for essentials of life, and an avenue back into paying work. It's a chance for all of us to give back something to the people who have given us so much enjoyment.
Since its inception, The Hero Initiative has had the good fortune to grant over $400,000 to the comic book veterans who have paved the way for those in the industry today. For more information, visit www.heroinitiative.org or call 626-676-6354.