FLORIDA SUPERCON 2010
OVER A DOZEN MAJOR NEW GUESTS ADDED FOR JUNE 18-20, 2010 SHOW
www.supercon.tv
Miami, FL – Florida's most exciting and fun genre convention continues to add more guests and events for the 5th annual Florida Supercon, set to occur June 18-20, 2010 in Miami, FL. Nineteen new guests have been added to the already massive guest list with more still to be announced as we get closer to the show!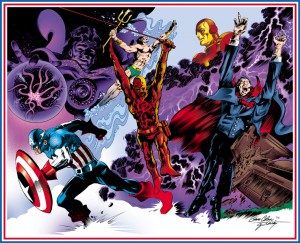 Florida Supercon (FSC) is South Florida's Comic Book, Anime, Animation, Video Game and Sci-Fi / Fantasy Festival, a three day festival that includes celebrity guests, comic book publishers, artists, writers, vendors, Q&A's, parties, costume contests, anime programming, cosplay, panels, photo shoots, live music, video games and more. The event kicks off at 12:00PM, Friday, June 18 and the fun continues almost around the clock until 6:00PM, Sunday, June 20. FSC returns to Miami for its 5th year as it takes over almost 150,0000 square feet at the Doubletree Miami Mart Airport Hotel and Convention Center to become the largest genre convention in the history of South Florida!
New guest artists include:
·         Gene Colan: Legendary Comic Book Artist whose career has spanned 1946 to the present. Gene is well known for his work on Iron Man (including the classic Iron Man #1), Batman, Daredevil, Tomb of Dracula, Captain America, Doctor Strange and much more!
·         Greg Horn: Superstar Comic Book Artist Greg Horn is well known for his painted work at both Marvel and DC including: Secret Invasion, Blackest Night, Ms. Marvel, Green Lantern, Anita Blake, Iron Man, She-Hulk and more!
·         Jay Leisten: Current inker of Uncanny X-Men and Moon Knight for Marvel Comics. Jay's other credits include Dark X-Men, Witchblade, Wolverine, New Avengers and much more!
·         Echo Chernik: Echo has over fifteen years of experience as a professional commercial artist who has done work for Celestial Seasonings, Arlo Guthrie, Miller Brewing Co., Camel Cigarettes and more.
·         Luis Diaz: Luis has worked as an illustrator, designer and fine artist for IDW Publishing (Wynonna Earp), Devil's Due, Topps, WWE and more. He has created over 40 paintings for the new Garbage Pail Kids and Wacky Packages card sets.
New guest celebrities include:
·         Robb Demarest: The lead investigator for Ghost Hunters International, Robb can be seen weekly on the Syfy channel investigating the paranormal.
·         Brandy Green: A case manager for Ghost Hunters International, Brandy can be seen weekly on the Syfy channel investigating the paranormal.
·         Luciana Carro: Star of Battlestar Galactica as "Kat" and Caprica as "Pyrah".
·         The Iron Sheik: Wrestling Legend, former WWF World Heavyweight Champion, WWF Tag Team Champion and WWE Hall of Fame member.
·         Greg "The Hammer" Valentine: Wrestling Legend, former WWF Tag Team Champion, WWF Intercontinental Champion, NWA Champion and WWE Hall of Fame member.
·         Terri Runnels: Former WWF, WWE and WCW manager, host and wrestler. Terri was one of the first WWE divas.
·         Traci Brooks: TNA Wrestling star, Traci is the original TNA Knockout!
·         SoCal Val: TNA Wrestling star.
New Musical Guests include:
·         Addax: Indie Power Pop band
·         Feeding Fingers: Post Punk / New Wave trio
·         The Joyness: Pop / Folk Rock band
·         S.S. Hanami: Anime Rock band
New Cosplay Guests include:
·         Yaya Han: Cosplay Guest Yaya Han is a costume designer and cosplay entertainer with over 9 years of experience and over 100 costumes under her belt. Her intricate and lavish creations have won awards and acclaim nationwide.
·         Miracole Burns: Model, Professional Makeup Artist, Costume Designer and Uber Nerd!
More information for each of these guests may be found at the FSC website www.supercon.tv. These new guests join a line up of over 100 guests already announced for the show, and that number continues to grow every week. Some of the guests already lined up for FSC 2010 include:
Comic Book artists and writers such as Ariel Olivetti, Gene Colan, Bill Sienkiewicz, Khoi Pham, Rafa Sandoval, Dennis Calero, Brad Walker, Paul Gulacy, Fred Van Lente, Filip Sablik, Georges Jeanty, Dick Giordano, Dustin Weaver, Steve Kurth, Shawn Crystal, Joe Jusko, Greg Horn, Allen Bellman, Clayton Henry, Alex Saviuk, Pat Broderick, Rob Hunter, Greg "Dark One" Williams, Vinnie Tartamella, Dick Kulpa, Jay Leisten, Luis Diaz and more!
Anime and Animation voice actors like Troy Baker (Naruto, Code Geass), Richard Horvitz (Invader Zim), Larry Kenney (Thundercats), Brittney Karbowski (Xenosaga, Pani Poni Dash), Dana Snyder (Aqua Teen), Charles Fleischer (Roger Rabbit), Brad Kesten (Charlie Brown), Angela Lee-Sloan (Lucy in Peanuts), Stacy H. Tolkin (Sally in Peanuts) and more!
Legendary Filmmakers Lloyd Kaufman and Hershell Gordon Lewis.
Movie and TV Celebrities such as Tia Carrere (Wayne's World, Relic Hunter), Robb Demarest (Ghost Hunters International), Brandy Green (Ghost Hunters International), Luciana Carro (Battlestar Galactica), John Wesley Shipp (The Flash), Charles Fleischer (Back to the Future II), Julie McCullough (Growing Pains, The Blob), Louise Robey (Friday the 13th the series), Rebecca Staab (Fantastic Four), Michelle Lintel (The Black Scorpion) and more!
Wrestling Guests such as The Iron Sheik (WWF), Greg "The Hammer" Valentine (WWF), Sinn "Kizarny" Bodhi (WWE), Terri Runnels (WWE), Traci Brooks (TNA) and SoCal Val (TNA).
Musical Guests like MC Frontalot, Addax, Feeding Fingers, The Joyness, S.S. Hanami, Robbed By A Flute, Sci-Fried, The Pursuit, Murderous Rampage and more!
Cosplay and Entertainment Guests such as Yaya Han, Miracole Burns, The 3000 Brigade (Smash Bros. Show), Supercon Championship Wrestling, Wasabi Anime and more!
Stand Up Comedy Guests like Lisa Corrao, The Revenge of the Nerds Comedy Show, Julie McCullough and more!
Additional guests can be found at on the Florida Supercon website at www.supercon.tv
This years FSC will have dedicated programming tracks for each of the genre's being celebrated. Some of the amazing events include:
Q&A's with most of our attending guests
Comic art portfolio reviews for aspiring artists
Fan panels for all aspects of the show (Comics, Anime, Animation, Sci-Fi etc.)
Industry panels for breaking into Comics, Anime, Animation etc…
The FSC Costume Competition (with over $3,000 in cash and prizes)
The FSC Cosplay Skit Contest
Rumble Roses Cosplay Wrestling
Cosplay Deviant's Hentai Cafe
Supercon Championship Wrestling's "Supercon Mania!"
The Smash Brothers 3000 Super Show
Filmmaking workshops with Hershell Gordon Lewis
Live Musical Performances
Over 100 video game stations
A 50,000 square feet exhibition room with over 400 booths and tables featuring vendors, celebrity guests, artists, filmmakers and exhibits.
Complete information on these and dozens of more events taking place all weekend can be found at www.supercon.tv
The convention hours of operation are:
FRIDAY, JUNE 18: 12:00PM – 2:00AM
SATURDAY, JUNE 19: 11:00AM – 2:00AM
SUNDAY, JUNE 20: 11:00AM – 6:00PM
FSC is located at The Double Tree Miami Airport Hotel and Convention Center,
711 NW 72nd Ave, Miami, FL 33126. Discounted room rates for convention