Press Release:
The Great Allentown Comic Con! is proud to announce that members of the 501st Legion – Vader's Fist will be attending the April 3rd Show!

The 501st is a volunteer organization, "The World's Definitive Imperial Star Wars Costuming Organization." Endorsed and preferred by Lucasfilm Ltd. Garrison Carida® of the 501st Legion performs charitable events and community-based ventures, while celebrating and promoting the Star Wars universe with people young and old. Their group has participated with groups including Make-A-Wish Foundation, Walk Now For Autism, Sunshine Foundation, The Franklin Institute, various regional children's hospitals, The Today Show featuring Donald Trump, the Rose Parade, and many others. The 501st Legion has worked closely over the years with many of the Star Wars celebrities and also with Lucasfilm at many conventions and events.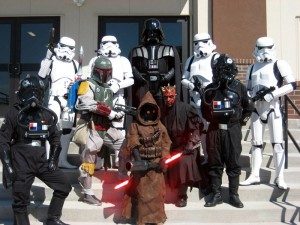 Members of the 501st Garrison Carida® will be accepting toy donations all day at the show, as well as available for photos with fans and enthusiasts of all ages. In addition, we will be holding a special Donation auction prior to our scheduled 1pm auction, with all proceeds to benefit a charity in association with Garrison Carida®.
For more information please visit the Garrison Carida® site at http://www.501stgarrisoncarida.org or email us! – info@allentowncomiccon.com
Thanks and see you all at the show!
The Great Allentown Comic Con! Staff