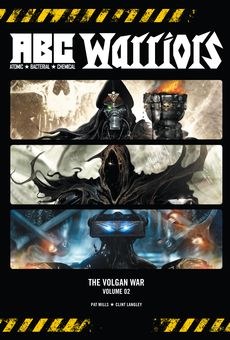 PAT MILLS & CLINT LANGLEY SIGNING AT FORBIDDEN PLANET 
Saturday 27th February 1 – 2pm
 
Forbidden Planet is pleased to announce a signing by Pat Mills and Clint Langley. They will be signing ABC Warriors: The Volgan War Volume 2 at the Forbidden Planet Megastore, 179 Shaftesbury Avenue, London, WC2H 8JR, on Saturday 27th February 1 – 2pm
The Meknificent Seven are ever-closer to retrieving their comrade Zippo from Marineris, 'the ugliest city in the galaxy'; Deadlock and Blackblood recount dark tales from their involvement in the Volgan War. And, whilst past secrets create new hostilities within the team, an ex-ABC Warrior nursing a big grudge commits the ultimate act of betrayal!
 
Pat Mills is one of the founding fathers of 2000AD and one of the most respected comic book writers around. He's created some of the longest-running characters for the title such as Slaine, ABC Warriors, and Nemesis The Warlock. His other work includes writing and developing Judge Dredd and Charley's War.
 
Clint Langley started his career in the 90's. His images can be seen worldwide in comics, on novel covers and in the conceptual design for advertising and films. His first comic strip work was Dynosty, which appeared in 2000AD. He's since worked on various comic strips such as Slaine, Judge Dredd and Warhammer.
 
Forbidden Planet is the largest store of its kind in the world. Some of the biggest names in Sci-Fi, Fantasy, Comics and Cult Entertainment have come to our London Megastore for signing events, including: Neil Gaiman, Terry Pratchett, Terry Gilliam, Simon Pegg, William Gibson, Mark Millar, Guillermo Del Toro, Brian Froud and Stephen King.