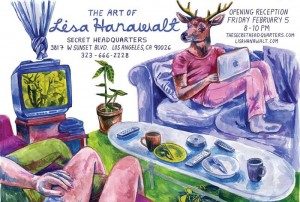 Friday February 5th Secret Headquarters presents
The Art of LISA HANAWALT
Lisa Hanawalt is some girl from Palo Alto, CA who has a fancy art degree from UCLA. When Lisa isn't seen drawing at the Buenaventura booth, or freezing in New York, she can be found creating work for The Believer, McSweeney's, Vice Magazine, etc. The Secret Headquarters team thinks Hanawalt's work is top notch amazing.
Do not fool around here – get into it!
Join the talented Lisa Hanawalt for a drink or two as she discusses the merits of Indiana Jones and the craft of hand painted picture frames.
Friday February 5th from 8 – 10pm
SECRET HEADQUARTERS, 3817 W. Sunset Blvd, Los Angeles, CA 90026