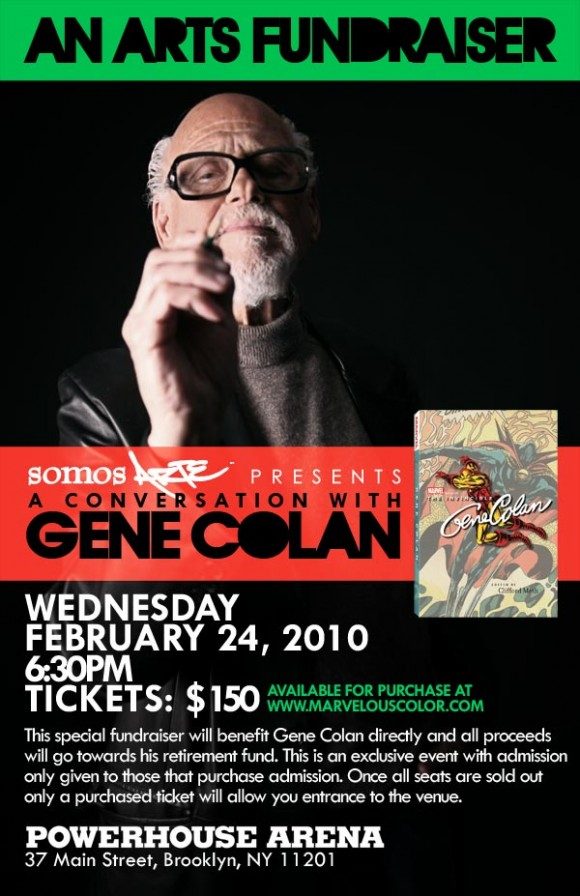 This special fundraiser will benefit Gene Colan directly and all proceeds will go towards his retirement fund. This is an exclusive event with admission only given to those that purchase a ticket.
$150 Ticket price includes:
Admission for two to Somos Arte presents A Conversation with Gene Colan moderated by curator Edgardo Miranda-Rodriguez (Marvelous Color, Santerians | The Art of Joe Quesada) .
One (1) Gene Colan sketch.
One (1) Autographed copy of The Invincible Gene Colan released by Marvel Entertainment (Hardcover, 128 pages). It is a stunning visual tribute and biography of one of the most brilliant, sublime and influential comic artists in the genre's history. Including observations from Stan Lee, Neil Gaiman, Walter Simonson, Marv Wolfman, Tom Palmer and John Romita Sr., it also contains tons of Gene's beautiful, eye-popping art.
Visit www.marvelouscolor.com/events.html to purchase your ticket
This special event is being produced with the support of Gene and Adrienne Colan.
Venue provided by POWERHOUSE ARENA. (www.powerhousearena.com)
——————————————————————————–
Gene Colan's official career in comics began in 1944 at Fiction House drawing Wings Comics. Once Gene began to solicit work with the major comic companies, Stan Lee at Timely Comics was impressed enough to hire Gene for around sixty odd dollars a week. Since that time, Gene has been associated with both National (DC) and Timely (Marvel) Comics  from 1946 to the present day as well as numerous independent publishers over the years. Not only is he closely associated with popular characters like Daredevil, Batman, Captain America, Dracula, Iron Man, Captain Marvel, Howard the Duck, Wonder Woman, Blade, Sub-Mariner and many others, he's also worked just about every genre comics have ever touched on: Romance, War, Crime/Detective, Western, Sci-Fi, Horror, Humor, and of course Superheroes. His style is immediately recognizable for its dramatic & sweeping cinematic form, mastery of light and shadow, expression and characterization, and unusual eye-catching layouts. Gene is also responsible for the innovative use of "finished pencils" as artwork. He is the only artist today whose work is often published directly from his pencils.
Gene has taught at both the School of Visual Arts in Manhattan and the Fashion Institute of Technology. Gene has enjoyed showings at the prestigious Bess Cutler Gallery in Soho, New York City and Manchester's Elm Street Arts Gallery where he lectured on Comics, Cinema, and Continuity Art.
Learn more about Gene Colan by visiting www.GeneColan.com