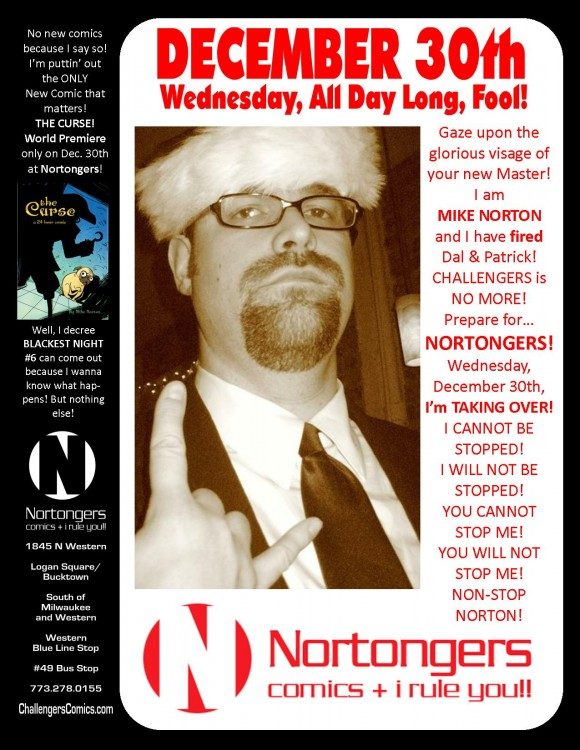 Mike Norton signs on Dec. 30 11:00 am – 07:00 pm
Well, I think we had a good run.
Unfortunately, Mike Norton has decided otherwise.  As a result of behind-the-scenes chicanery (I'm pretty sure there aren't five aces in a standard poker deck) MIKE NORTON has usurped control of Challengers.  As of December 30th, you'll be able to buy whatever comics Mike feels like selling you at NORTONGERS.
Patrick and Dal will still be around on the 30th in a reduced capacity, at least until Mike fires them both.  Which he will probably do several times throughout the day.  What WON'T be here are most new comics, owing to a nationwide skip week from comic distributor Diamond. Well, okay, Blackest Night #6 will be here, but only because Mike demanded it.
Also demanded by Mike: the print debut of his 24-hour comic THE CURSE!  You've heard the internet buzzing about since October, but once NORTONGERS opens its doors, you can pick up a copy of your very own!
I'm certain Mike's got a ton more planned, but he won't tell me because "only the owner needs to know."  Then he laughed.  He laughed SO hard.
Challengers Comics + Conversation, 1845 N. Western Ave. 2R , Chicago, IL 60647