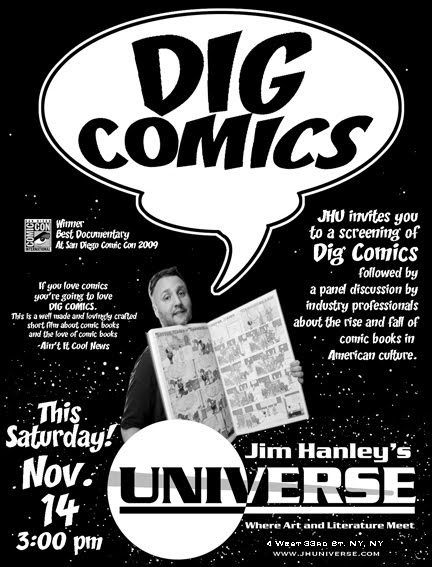 Jim Hanley's Universe presents an EXCLUSIVE screening of the award-winning documentary (and comics evangelism project) DIG COMICS with filmmaker Miguel Cima, Saturday, November 14 beginning at 3:00pm at the JHU Underground! This film and this project, are all about getting people to read more comics – Click here for the Dig Comics website and click here to see the trailer for the film!
In addition to this exclusive screening, we will also have an A-List panel discussion with Mr. Cima; Marvel Executive Editor Tom Brevoort; editor of Publishers Weekly comic blog THE BEAT, Heidi MacDonald; noted DC writer/editor and founder of Paradox Press, Andy Helfer; author and editor of the Graphic NYC Blog Chris Irving; and author of Superman on the Couch and Disguised as Clark Kent, Danny Fingeroth!
So join us on November 14 for this screening and panel discussion, exclusively at Jim Hanley's Universe, Where Art & Literature Meet!
Jim Hanley's Universe, 4 West 33rd Street, New York, NY 10001