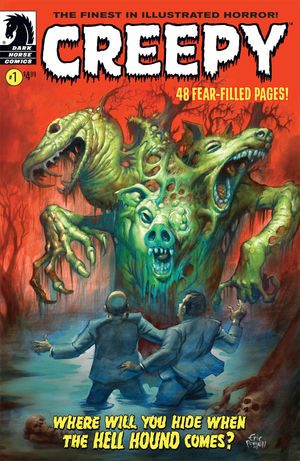 Neil Kleid signs on Oct 25th
Neil Kleid posted:
In the spirit of the impending Halloween season, I'll be signing copies of Dark Horse's CREEPY COMICS #1 at A&S Comics and Cards in my hometown of Teaneck, New Jersey on Sunday, October 25th at 12PM. I've got an eight page story in the issue entitled "All the Help you Need" with artist Brian Churilla, and A&S is graciously opening their doors for me to sign a limited number of copies. I'll also be signing some of my other work — particularly THE BIG KAHN, my new graphic novel with Nicolas Cinquegrani about a rabbi who dies and at his funeral his family and congregation discover he was conning them: he isn't even Jewish. The book has been called "a beautifully meditative story" by the Onion, a "rich and meaningful exploration" by Heeb Magazine, "Gripping" by Publisher's Weekly and Whitney Matheson from USA Today said "I almost missed my subway stop because I was so engrossed in this book."
Swing by on Sunday, October 25th to pick up and talk about comics, get stuff signed, get something sketched and generally have a great old time.
A&S Comics and Cards is located at 563 Cedar Lane, Teaneck NJ. The phone number for directions is 201-801-0500