Hero Initiative: Bringing back the HEAT to Southern California at first Long Beach Comic Con
100 Wolverines at The Danger Room, Stan Lee, Rev. Dave Johnson, J. Scott Campbell and more set it off!
Los Angeles, CA. September 29, 2009, ( for immediate release): Southern Cal may be cooling off, but Hero Initiative is on fire and bringing back the heat at the first Long Beach's Comic Con, October 2-4 at the Long Beach Convention Center.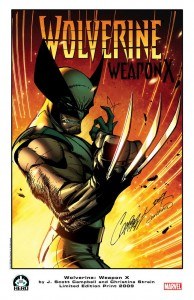 First up: It's been a labor of love and shipping, but we have at long last assembled our 100 original Wolverine: Weapon X #1 covers and invite you to…The Danger Room! This first and ONLY viewing of 100+ original covers happens Friday, Oct. 2 at 5 PM at the con, room 204. Admission is a mere $5, $3 if you come in an X-Men costume or FREE if you show up dressed as Wolverine himself. Admission gets you one free raffle ticket to win a KICKASS (but empty!) wine bottle crafted by the amazing Karlton Hahn of Xena Etched Graphics. You can increase your chances by buying more raffle tickets on site. Our friends from The Comic Bug will be on hand as well to spoil you with coupons and stuff. This will be your ONLY chance to see all 100+ covers in living color and all their glory. 'Til the book comes out in November, that is. And when will the covers be up for auction? Check eBay.com in late October!
Next up, Hero Initiative is proud to feature an exclusive Wolverine print by amazing artist J. Scott Campbell and the talented colorist Christina Strain. There are only 100 made, and they'll be available for $20 each only at the Hero Initiative booth, #349, while supplies last. You can even get your print signed by BOTH Campbell and Strain, as they'll be appearing at the Hero booth on Saturday between 11am-12pm.
In addition, Stan Lee has graciously agreed to do a limited meet-and-greet session with a few select fans. There are only TEN availabilities to this session available via Hero Initiative. Five more guest of the Long Beach Comic Con will also be in attendance. You can get a picture with Stan, and you'll also be able to get TWO Stan Lee autographs at this event on YOUR items of YOUR choice! Go to:
http://shop.ebay.com/heroinitiative/m.html?_nkw=&_armrs=1&_from=&_ipg=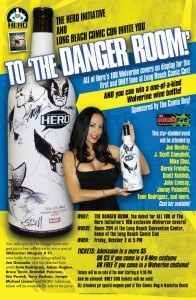 Lastly, while you are at the Hero Booth you can renew your Hero Initiative membership! 2009 marked the first year ever for Hero Initiative memberships, and for 2010, we've revamped with more and better premiums! You can get full information at the booth or order today at www.heroinitiative.org or www.heroinitiative.org/2010members. Old Members, remember to bring your membership card to claim a 10% discount!
And the first 50 members to sign up will also get a bonus gift card from Sideshow Collectibles worth a random amount from $10 to $50 at SideshowCollectibles.com. Check it out!!
And of course, to really set the house on fire, our amazing line up:
FRI., 02 OCT (HOURS 300 AM-700 PM)
330-500: Scott Koblish
[500-730: 100 Wolverines party, room 204]
SAT., 03 OCT (HOURS 1000 AM-600 PM)
1000-1100: Brian Haberlin + Philip Tan
1100-1200: J. Scott Campbell + Christina Strain
1230-230: The Rev. Dave Johnson
430-530: Whilce Portacio
SUN., 04 OCT (HOURS 1000 AM-500 PM)
1030-1200: Norm Rapmund
1200-130: The Rev. Dave Johnson
200-300: Joe Benitez
300-430: Derek Fridolfs
For more information on the Long Beach Comic Con, visit www.longbeachcomiccon.com
About The Hero Initiative
The Hero Initiative is the first-ever federally chartered not-for-profit corporation dedicated strictly to helping comic book creators in need. Hero creates a financial safety net for yesterday's creators who may need emergency medical aid, financial support for essentials of life, and an avenue back into paying work. It's a chance for all of us to give back something to the people who have given us so much enjoyment.
Since its inception, The Hero Initiative has had the good fortune to grant over $400,000 to the comic book veterans who have paved the way for those in the industry today. For more information, visit www.heroinitiative.org or call 626-676-6354.