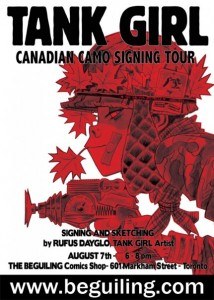 TANK GIRL CANADIAN CAMO TOUR
Featuring New Tank Girl Artist Rufus Dayglo
Friday, August 7th, 2009, 6pm-8pm
@ The Beguiling, 601 Markham Street, Toronto
FREE
http://www.facebook.com/event.php?eid=130975151421
Join The Beguiling in welcoming RUFUS DAYGLO, the brand new artist of TANK GIRL. Handpicked by co-creator and writer Alan C. Martin and co-creator Jamie Hewlett, DAYGLO has been drawing the adventures of Tank, Jet, Booga and company in Britain's weekly 2000AD anthology for a few months now, and also provided artistic duties alongside Ashley Wood on the recent IDW Tank Girl series'!
Books that Rufus Dayglo have contributed to include:
Tank Girl: The Gifting (IDW), Tank Girl: Visions of Booga (IDW), Metal Gear Solid 2: Sons of Liberty (IDW), SNAKED (IDW), 2000AD Magazine
Rufus Dayglo will be signing and sketching for fans at The Beguiling on Friday, August 7th from 6pm-8pm. The first 20 attendees will get a free copy of 2000AD with an Alan Martin/Rufus Dayglo TANK GIRL story in it!