TOP COW ANNOUNCES TALENT SEARCH AT SAN DIEGO COMIC-CON
PUBLISHER LOOKING FOR UP AND COMING ARTISTS TO JOIN THE TOP COW STUDIO

LOS ANGELES, Calif., July 21st, 2009 – Top Cow Productions, Inc. proudly announced today its plans locate new talent to join the world famous Top Cow Studio at this year's Comic-Con International, the world's biggest and most exciting popular culture convention brought together in the San Diego Convention Center in California from July 23rd-26th.
Top Cow has a long and proud tradition of finding and nurturing young talent under the watchful eye of founder Marc Silvestri in their in house studio, lovingly referred to as "The Pit." Previous alums of the studio include Michael Turner, David Finch, Joe Benitez, Billy Tan, Keu Cha, and Mike Choi among others. Current members of the studio include Eric Basaldua, Michael Broussard, Nelson Blake II, and Sheldon Mitchell. Top Cow is looking to open one or more spots in the studio and aspiring artists' first opportunity to try out will be at this year's Comic-Con International.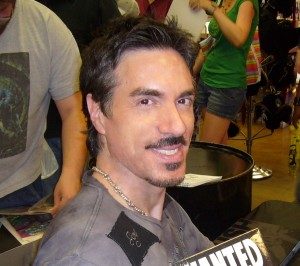 Top Cow will be set up in booth #2629 at the show. President Matt Hawkins, Publisher Filip Sablik, and Managing Editor Phil Smith will review portfolios on Thursday and on Friday from 11am until 1pm. Aspiring artist must pick up a portfolio review ticket from between 10am and 11am on the day of the review in order to secure a review time. Five artists will be selected each day and receive an opportunity to have a one on one portfolio review with Marc Silvestri on Saturday from 3pm to 4pm.
If an artist is extended an invitation to join the Top Cow studio, they will have to relocate to Los Angeles, CA to physically be part of the studio. Top Cow will not provide compensation for relocation costs and artists living in the Southern California area are preferred. No guarantee of paid work is implied or assured. Artists with questions are encouraged to stop by the Top Cow booth (#2629).
*SCHEDULE IS SUBJECT TO CHANGE WITHOUT NOTICE

About Top Cow Productions Inc.
Top Cow Productions, Inc. (www.topcow.com), a Los Angeles-based entertainment company, was founded in December of 1992 by artist Marc Silvestri, who also co-founded Image Comics earlier that same year. Top Cow currently publishes its line of comic books in 21 languages in over 55 different countries. The company has launched 20 franchises (18 original and two licensed) in the industry's Top 10, seven at #1, a feat accomplished by no other publisher in the last two decades. Its flagship franchise, WITCHBLADE, was TNT's #1 original film of 2000 and the subsequent TV series was released on DVD on July 29, 2008. A feature film, co-produced by Platinum Studios, Inc. and Arclight Films, is slated to begin production in Australia with director Michael Rymer. WITCHBLADE is also the first American property to be fully adapted in Japan as an original anime and manga by Studio GONZO in 2006. Top Cow's other flagship property, THE DARKNESS, was developed into a major next-generation video game release by Starbreeze and 2K Games and achieved platinum sales status. WANTED, an Eisner-nominated miniseries published by Top Cow from 2003-2005, is now a major motion picture from Universal Pictures starring Angelina Jolie, James McAvoy and Morgan Freeman. Virtually all of Top Cow's other properties are in development as feature films, live-action television, animation or video games. Top Cow has also successfully licensed and merchandised its franchises into toys, statues, clothing, lithographs, puppets, posters, magnets, shot glasses, lighters, lunch pails, wall scrolls, mouse pads, die-cast cars, calendars, Christmas ornaments, Halloween masks, trading cards, standees, video games and role playing games.