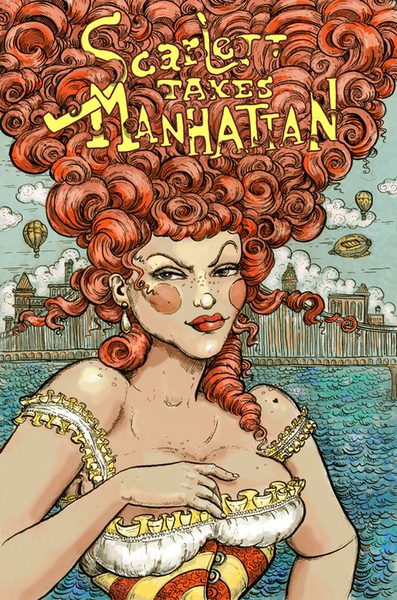 Molly Crabapple's first graphic novel, Scarlett Takes Manhattan, launches on July 8th! To celebrate, she is hosting decadent parties and signings on both coasts. Residents of New York, San Francisco and Los Angeles, take note.
July 8th, 7-9pm: Scarlett Takes Manhattan Launch Party @ The Slipper Room
On July 8th, Fugu Press releases Scarlett Takes Manhattan the first graphic novel by Dr. Sketch's creator Molly Crabapple and her longtime collaborator John Leavitt. Set in the demimonde of Gilded Age New York, Scarlett Takes Manhattan tells the story of poor Bowery girl Shifra Helfgott, who rises to become the premier fire- eater of her age.
Chock full of rigged boxing matches, dirty politics, and turn of the century lesbian culture, Scarlett has been described as "disgustingly wonderful" by Warren Ellis and led Margaret Cho to call Molly "THE artist of our time."
To celebrate the release of "Scarlett Takes Manhattan," Fugu Press will be throwing a glittery, burlesque-inspired launch at The Slipper Room, New York's premier variety venue.
@ The Slipper Room
167 Orchard Street @ Stanton
FREE. RSVP Mandatory
RSVP here
 
July 12th- 6:30 pm: Burlesque Book Signing @ Comic Relief (Berkeley)
Molly takes Berkeley on July 12th to celebrate the release of her first ever graphic novel, Scarlett Takes Manhattan. Burlesque is the word, and Sparkly Devil the muse: bring your sketchbooks to catch a pose or two from this drawing salon queen. Cupcakes are promised along with a reading, projections, and book signing from Molly Crabapple herself.
@ Comic Relief, 2026 Shattuck Ave., Berkley CA 94704
FREE
 
July 13, 6:30-10:30- Dr. Sketchy's SF @ 111 Minna (San Francisco)
What could be more fun than a drawing workshop with the hottest, most interesting Burlesque performers, fetish models, and other amazing people as our models! Well, I guess if you include booze and prizes maybe? Wait, we have all that too!
Founded by the award-winning artist, author, and entrepreneur Molly Crabapple, Dr. Sketchy's has become a drawing workshop empire that has taken the world by storm.
The next Dr. Sketchy's San Francisco is on Monday, July 13th at 111 Minna Gallery, SF. The workshop goes from 7pm – 10:30pm
Special Guest: Molly Crabapple!! That's right! Molly will be coming down from NY and signing copies of her new book, Scarlett Takes Manhattan! Our model this month is Mynx D'Meanor! And also performing is special musical guest Fromagique!
111 Minna Gallery, 111 Minna St, San Francisco, CA 94105
July 15, 7-10pm Dr. Sketchy's Burlesque Drawing Vaudeville Party @ Meltdown Comics (Hollywood)
Join Molly Crabapple for a reading/celebration of her first graphic novel"
Scarlett Takes Manhattan signing with Molly Crabapple
*live banjo/accordian by "Odious Ari and the Syphilitic Syncopaths"
*vaudeville tunes by DJ Jason Savvy
* mini vaudeville themed Dr. Sketchy's burlesque drawing with the gorgeous Gallery Girls
*open bar provided by asahi, pearl vodka and Tibetan Tea.
admission free with purchase of Scarlett Takes Manhattan or $10
Wednesday, July 15, 7-10pm
Meltdown Comics, 7522 Sunset Blvd, Los Angeles, CA 90046