Free Comic Book Day is the day when the industry tries to draw in new fans with the lure of free comics, along with the appearances of many comic book creators at a local comic book store. This year, a few stores in Los Angeles and its neighboring cities held some very high profile events, and I went on a 100 mile trek to see what FCBD had in store this year.
First off was Golden Apple in Melrose, Hollywood's Comic Store to the stars. Although the store brought in a myriad of comic creators such as Marc Andreyko and Kevin Eastman, the star of the day was William Shatner. The line outside went around the block and people continued to trickle in after the event had started.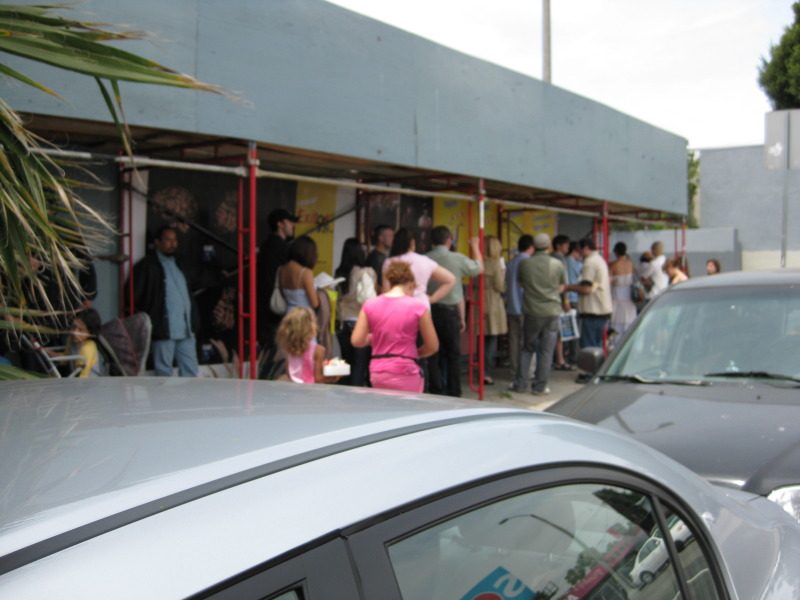 While the people waited, Mr. Shatner had arrived and got himself ready to sign his FCBD comic!
Mr. Shatner was a consummate professional. He signed about 300 books in about 40 minutes! Warp speed ahead!
After about an hour, Mr. Shatner took a break, and I went along my way to see Tim Sale at Meltdown Comics. Unfortunately, I caught him at the tail end of his FCBD appearance, but did snag a picture of a great commission piece he did while he was there:
A little disappointed, I carried on my little excursion to the next destination: Comic Odyssey in Pasadena, where Philip Tan was there signing and sketching for the fans. There was a line of about 10 people when I showed up, and Philip took the time to sketch for every fan in line. And not only were these simple head sketches, but he was pounding out 3/4 body pieces. It's amazing to watch an artist go to work and be in a zone where he's cranking out sketches every 10 minutes.
After getting a sketch from Phillip, I drove out to Westminster, where Comics Unlimited was hosting a signing by comic legend Jim Lee! The line went out the door and around the store:
The signing was supposed to end by 7, but Jim kept cranking out some great sketches. Finally, I drove back to Sunset to go back to Meltdown. They had a gallery showing of 80's cartoon characters taking on the LA art scene. One of the featured artists was David Finch, who painted a beautiful Strawberry Shortcake. I was extremely exhausted by the end of the day, but the 100 mile trip gave me hundreds of new memories. I can't wait till next year.